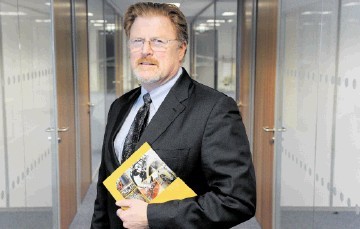 Proserv's boss has literally come a long way since he graduated in 1982 with a mechanical engineering degree from an Australian university.
Top of his bucket list of projects yet to be accomplished is the hope that some day he can make the return journey Down Under by sailing boat.
But there are still plenty of goals to be achieved before then for David Lamont, 52, in his role as Proserv chief executive.
The Westhill energy-production technology service company has already passed a few key milestones since he took the helm in March 2011 after a brief spell as chief operating officer.
In January this year, Proserv said it would create up to 50 jobs in the north-east as a result of business growth and two months later it launched a new subsea test and assembly centre near Echt, in Aberdeenshire. The firm also celebrated the first apprentices completing its customised subsea-equipment service technician course.
Other recent developments have included Proserv unveiling next-generation subsea cutting equipment and securing contracts worth more than £6million for projects in the North Sea. In August, the firm said it was taking a 10-year lease on a new manufacturing and test site in Stavanger, Norway, after nearly doubling turnover in the past year to about £200million.
Mr Lamont said the company was still pursuing ambitious growth targets, adding: "We have continued to grow the business organically by 25%-30% a year and I don't see that stopping.
"We are also always on the lookout for acquisition opportunities."
The company's workforce is also growing; it now employs more than 1,200 people globally, including about 350 in the north-east and a further 100 elsewhere in the UK.
Despite its size, Mr Lamont wants Proserv to behave more like a small company by remaining flexible and open to new ideas. Smaller businesses can often bring technical innovation to market quicker than big firms, he said, adding: "It is something we are conscious of and regularly remind ourselves that we need to have this flexibility.
"It is important to stand back and think are we getting big and lazy, or are we still innovative and pushing forward and pushing boundaries?"
"Every day there are new challenges and new opportunities, and I would like to think that everyone at Proserv feels the same.
"Staying true to our values is important. It might sound trite but making sure we are a company people want to work for and making sure customers want to come back to us because they know a job will be done a certain way is crucial to how we work."
The ambition is for Proserv to become the biggest small company in energy technology service.
It has built a reputation for innovation, particularly since its five constituent companies – Proserv Technology, Proserv Offshore, Hydrafit Subsea, Gilmore and Argus Subsea – were amalgamated under a single Proserv brand.
The group also includes a subsea-controls business, including facilities at Great Yarmouth, acquired from energy-service giant Weatherford International earlier this year. No cash changed hands but Weatherford now has a 26% stake in Proserv after the deal.
The majority shareholder is Intervale Capital, an energy-focused private-equity firm.
Proserv has a large global footprint, with 30 sites in 10 countries and customers in a further 10.
The international dimension to the business is reflected in its CEO's career. Born and raised in Perth, Western Australia, Mr Lamont got a taste of the global oil and gas industry on a work placement in Burma with Schlumberger.
He rejoined Schlumberger after graduating from Western Australia University and his first assignment for the company saw him working offshore out of Aberdeen.
"It was pretty cold when I arrived," he said, adding: "It was 35 degrees in Australia when I left on December 1, but Aberdeen was an exciting place and for a young man a good adventure."
The UK is one of 10 countries he has lived and worked in over 18 years, including a spell as Vetco Gray's president for the eastern region and subsea production systems.
Norwich is home now and he commutes from there to Aberdeen before rejoining wife Michelle and their three children, Kane, Madelaine and Louis, at weekends.
There is not a lot of spare time in his life but he is a keen swimmer and triathlete, completing his latest event in London just a few days ago.
Looking ahead to Proserv's future, he is not sure exactly where the business will go but knows how he would like it to get there.
He said: "The ongoing evolution and readiness to adopt new technologies in some of the harshest environments makes us a special industry.
"We are on a journey which is guided by our core values and culture.
"There is an evolving business strategy and longer-term plans but as to where we get, I will look forward to sharing that when we are there."
Recommended for you

Using decommissioned wells to heat homes, hospitals and businesses