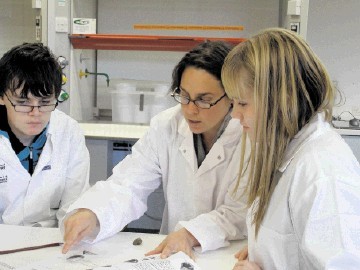 Youngsters from the Highlands have been given a flavour of what careers in the STEM subjects could bring them after visiting Thurso's world-class Environmental Research Institute (ERI).
The centre is currently involved in a wide range of research including two multi-disciplinary marine renewable projects – MaREE and Hebridean Marine Energy Futures.
To inspire the researchers of the future and encourage young people to study science, technology, engineering and maths, the centre welcomed 19 sixth-year pupils from Thurso and Wick High schools on a research taster session.
Director of ERI, Professor Stuart Gibb, introduced them to the opportunities available to study environmental and renewable science within the University of the Highlands and Islands before a series of presentations outlining "what being a researcher is all about" and hands-on sessions to give pupils a taste of laboratory work.
On a second day, ERI also took part in a Bridge to Employment day, along with colleagues from the Engineering Technology and Environment Centre.
This saw about 50 young people from six Highland secondary schools take part in taster sessions aimed at highlighting opportunities and careers that can arise from the STEM subjects, from the world of biological and chemical research as well as opportunities for careers in engineering.