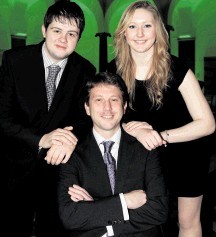 Talisman Energy stressed the need to nurture and grow the next generation of the oil and gas industry as it announced the latest winners of its scholarship programme last night.
The Canadian firm has awarded scholarship funding and support to eight north-east students this year to help them complete their studies.
More than 100 students at Aberdeen University and Robert Gordon University (RGU) have now benefited from the company's £1million programme since it was launched in 2006.
Speaking ahead of the Talisman 2012 scholarship awards dinner in Aberdeen last night, UK senior vice-president Geoff Holmes said: "Not only do our scholarship programmes give financial support for our students, we also provide mentors and practical work experience to help them develop their skills, knowledge and expertise.
"As an industry, it is vital that we nurture and grow the next generation . . . and Talisman is committed to playing its part."
RGU principal Professor Ferdinand von Prondzynski said the scheme encouraged students to consider a career in the oil and gas industry, adding: "We are extremely pleased to be working in partnership with Talisman to produce graduates who will excel in the energy sector, and these awards have already generated interest from talented individuals who might not have considered a career in the sector."
Aberdeen principal Professor Ian Diamond said: "The Talisman scholarship programme is a wonderful example of how we are working with – and for – industry to attract and develop the talented students who will lead the energy sector in the future decades. Together we can ensure they have the professional skills, personal qualities and international outlook to take on the challenges and maximise the opportunities facing the sector."
Talisman scholars
Aberdeen University: postgraduate – Max Norman; energy specialist – Eamon Baker; undergraduate – Callum MacLeod, Clare Hyland and Ryan MacKenzie.
Robert Gordon University: scholarship in business – Lynne Meldrum; scholarship in engineering – Michael Thain and Victoria Allen.