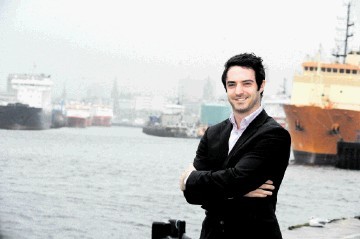 Jamie Allan has ambitions but recognises that what you want might not be what you get – at least at first.
The 25-year-old started off graduating with a degree in law but found oil and gas had greater opportunities.
What is your day job today?
I work for engineering company IMI as the Scotland area manager for their severe service division, CCI. In this role, I devise and implement strategies for securing business with various new and existing companies operating in my region, specifically new construction oil and gas and aftermarket. I recently completed a six-month placement at their European Centre of Excellence in Vienna to hone my skills and plot my development path.
Why did you choose your career in the oil and gas industry?
After graduating in Law at Aberdeen University in the depths of the recession, and with all the evidence indicating the legal profession was one of the worst for graduates to enter, I decided to do a Masters in management, enterprise and innovation to expand my knowledge and skill base – and my job prospects.
I was looking for an industry that would provide me with job security, excitement, motivation, quick career progression, international travel, benefits and great money to help pay off all that student debt!
The oil and gas industry was the obvious and unrivalled winner.
Who or what has influenced you most in your career to date?
Education firstly: whether formal qualifications or awareness of current affairs, I've experienced that continuing to have a breadth of knowledge across many areas will produce greater rewards in life.
However, my family have been the most important: without having much themselves they have supported me in every way possible my whole life; I don't want to ever let them down and that drives me every day.
Where do you see your career going?
After a few years gaining experience in the industry I'd like to really utilise my degrees and specialise in business development or contracts with a major oil company. Looking further afield certainly senior management or becoming a consultant are both attractive prospects.
What advice would you give to others looking to get into the oil and gas industry?
From my own experience, I'd say that it seems work experience would give you a vital edge and so I'd recommend applying for summer placements. Attending exhibitions, which are usually free for students, is also a great way to network, to build up contacts and to learn about what is going on and this displays a real interest in joining the industry.
If you weren't doing the job you are in now, what else would you be doing?
Hopefully working in a graduate commercial role within a large organisation. However, in this climate, you have to take the best you can get which is not always what you want initially.
Recommended for you

Martin Compston: 'Filming The Rig brought back memories of magical Aberdeen'