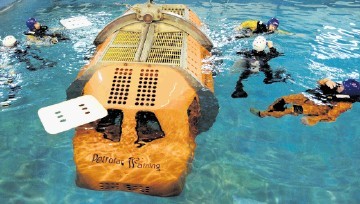 Energy service giant Petrofac said yesterday its training and consultancy arm had spent £500,000 on new equipment for Aberdeen amid growing demand for its services.
Petrofac Training Services (PTS) said it had invested the money in its marine training centre and emergency-response service centre, including on a new fast rescue craft which takes its fleet to 16.
It comes after PTS, which employs up to 30 people in the Granite City, relocated its freefall lifeboat capability from Dundee to Aberdeen last year.
The company has trained more than 3,000 people in the north-east in 12 months.
Gordon Caird, global director of fire, safety and survival training at PTS, said: "Last year we invested a significant amount of money in freefall lifeboats, which is a huge demonstration of our confidence in our position in the market here.
"Our customers are very pleased with the recent investment we have made, as it meets their needs."
PTS has also acquired e-learning firm Oilennium for an undisclosed sum.
Mr Caird said Oilennium, which employs 26 people, would give PTS services its rivals did not have. He said: "It has been a deliberate part of our strategy to enhance our capability and move into e-learning, which will give us a wider reach. It adds to the strength and capability of the business."
Mr Caird added the current strength of the North Sea oil and gas industry was giving PTS a boost as well. He said: "We do specialist training, and the confidence in the industry means more activity and therefore more people requiring training."
PTS also trains oil workers in the US using an indoor pool normally reserved for astronauts.
PTS uses spare time at the Johnson space centre, in Houston, home of the world's largest indoor pool, and has trained about 2,000 offshore workers this year.
The pool – known as the neutral buoyancy laboratory – can simulate the weightless environment of space and is traditionally used to help astronauts to train for space walks on full-size replicas of space station modules.