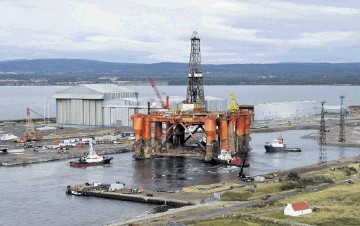 A crane-driver training centre is to be opened soon at Nigg Energy Park on the Cromarty Firth, creating an initial 10 jobs.
The project is to be launched by Weldex, an Inverness firm which is the UK's largest independent crawler-crane company.
It comes as Weldex revealed it has had more Scottish business this year than at any time in the past 10 years.
Chairman Doug McGilvray said: "We feared a difficult year on completion of our Olympics contracts, with 34 cranes out of our total of 120 being involved simultaneously at games construction sites.
"But, to our surprise, the market in Scotland has more than filled the gap with contracts in Orkney, Shetland, Dounreay, Nigg and the new Forth road crossing.
"This is very much against the trend of the past decade, when the bulk of our activity was in England or overseas.
"And we have a significant volume of orders for the first half of 2013, including work at SSE's wind-turbine demonstrator site at Hunterston and multi-crane and modular-trailer contracts at the Drax Power station and the steel mills in England."
The company has also been awarded a contract for onshore cranage and modular-trailer work for the West of Duddon windfarm in the Irish Sea.
Weldex employs 130 people and has annual turnover of £30million.
Mr McGilvray said he intended the Weldex crane-driver training facility to be up and running at Nigg by spring, adding: "Like many other crane operators, our skilled workforce has an ageing profile.
"The nearest crane schools are in England so we've pursued the idea of establishing our own and we're ready to go. It's an excellent way to inject new blood into our business while offering opportunity to people who we anticipate being mainly from the Highlands and islands."
Weldex, which is also opening a depot at Nigg, intends to get off to a flying start to 2013 by investing £2.5million in two 220-tonne telescopic crawler cranes, said to be the first of their kind, from Leibherr. They will arrive next month and contracts for their use are already in place.