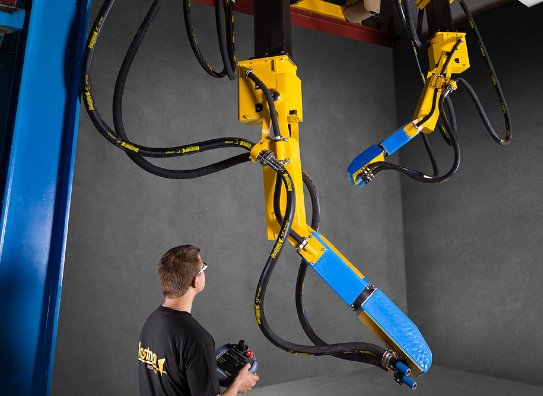 Swire Energy Services (SES) will invest £4 million in new robots for blast paint coating thousands of its offshore containers.
The equipment will be installed in the second half of 2021 at SES's bases in Aberdeen and Stavanger, Norway.
SES said emissions related to the coating  process would drop by more than 30% at both locations, thanks to the new gear.
The technology will do a more precise job and extend the operating life of SES's 28,000 North Sea containers.
In addition, the robotic installation will enhance SES's capacity to support maintenance and services for customers' equipment.
Michael King, vice president for operations at SES, said: "As part of our ongoing commitment to innovate, digitalise and reduce our carbon emissions, I am delighted to announce the launch of this project.
"The new automation processes will allow us to maintain our North Sea rental fleet to the highest standard whilst reducing our process and energy related emissions.
"Also, and perhaps more significantly, by extending the operating life of our fleet we will reduce the need for early disposal and replacement which in turn will reduce emissions across the entire supply chain.
"We see the investment of technology across our global business as critical to ensuring SES achieves carbon neutrality, with the additional benefit of delivering greater operational efficiencies to our customers."
SES has more than 500 employees spread across 56 bases in 28 countries.
Recommended for you

North Sea firm Deltic aiming to raise £15m to cover costs and fund investment