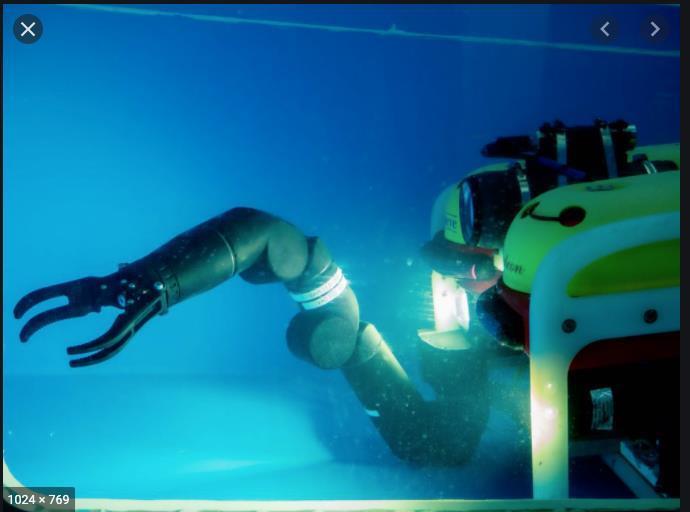 A Scottish university will help create robotic technologies for bomb disposal and nuclear decommissioning jobs, taking humans out of harm's way.
Heriot-Watt University's National Robotarium is working on the project with Sheffield-based robotics software firm Cyberselves and Resolve Robotics, of Cumbria.
The project, called Tel-Subsea, is one of eleven in an £800,000 programme managed by the Defence and Security Accelerator (Dasa), a funding body which is part of the Ministry of Defence.
Tel-Subsea partners said they would develop "telexistence technologies" for hazardous environments.
Telexistence physically removes humans from dangerous situations by using a robot as a "surrogate self".
While there have been significant advancements in robotics in recent years due to improved sensor technologies and AI, human-machine interface technologies have remained largely unchanged since the 1980s.
Thanks to new telexistence technologies, humans can "telepresence" remotely into a robot and receive haptic feedback — touch, warmth and vibrations – making the experience more immersive.
Though immediate work will focus on bomb disposal and nuclear decommissioning, wider potential applications include offshore wind production and space exploration.
Professor Yvan Petillot from the National Robotarium, a research centre for robotics and AI, said: "We will accelerate research from laboratory to market, paving the way for the UK to take a leadership role in telexistence technologies.
"Our academic team will integrate new solutions for underwater telepresence and manipulation on small to medium ROVs for remote intervention."
Emily Tithecott, associate delivery manager at Dasa, said: "This competition gives us a real buzz, we are seeing more government departments teaming together to fund innovations and this ensures many different sectors benefit from the adapted technologies.
"The funded projects will develop ideas in the latest remote operating, including: kinematic mapping, virtual reality, haptics, robotics, and telepresence."