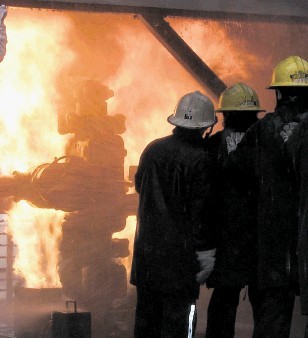 Energy service giant Petrofac said yesterday it would invest £1.5million in its offshore fire-training operation.
Petrofac Training Services (PTS) will use the cash to upgrade its 16-acre Montrose site, which has been training North Sea workers for 30 years.
The investment means PTS will offer a mix of hands-on training and classroom learning to fire safety trainees. It will include a new simulation programme where participants will learn about different scenarios before starting live-fire work.
PTS global director Gordon Caird said: "This is a major investment for Petrofac, for Montrose and for the future of safety training in the north-east. It demonstrates the depth of our continued commitment to maintaining and improving safety standards while helping to develop a competent workforce for North Sea operations and indeed around the globe."
The Angus site – formerly part of RGIT Montrose until the whole business was bought by Petrofac for £17.4million in 2004 – has trained more than 100,000 people since it opened in the late 1970s.
Mr Caird said: "The north-east has the potential to lead the way in this area and become a centre of excellence for offshore safety, which will no doubt boost the local economy and increase safety around the world."
Recommended for you

Maersk Training seeks new UK instructors following 'huge surge' in demand