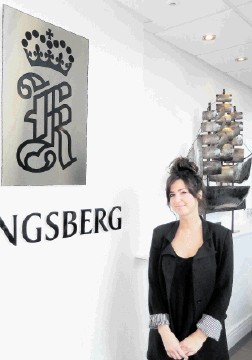 Marine technology firm Kongsberg Maritime said yesterday more than 1,200 people were trained at its Westhill base last year.
The Norwegian company ran 249 courses for customers learning how to use its systems in 2012, a 20% rise on the previous year.
Kongsberg said the number of delegates jumped by nearly a quarter, with 1,239 trained in how to use dynamic positioning, acoustic positioning or marine automation programmes.
The company said rising demand for technical and product-specific training programmes in the maritime sector had also led to instructor numbers increasing from three to 12 in four years.
The firm moved into its simulation and training centre at Westhill, called Thermopylae House, last year after investing £2million in the site. It said at the time that 70 people would move from its previous offices at Bridge of Don, but added it wanted to recruit a further 15 people.
Kongsberg operations supervisor Kerry Johnston said she expected the company's phenomenal growth to continue, adding: "Offshore operators now realise that training and development of staff members needs to be an integral part of their own plans to grow, especially in the current climate when the skills shortage remains one of the biggest problems facing the industry.
"We anticipate further growth in the training facility throughout 2013. The new training centre allows for this development, and for continued expansion of the team of training instructors. If interest in training continues at its current rate, we would anticipate creating additional posts within the training division before the end of the year."
Kongsberg Maritime also has a base at Wick where it employs more than 40 people.