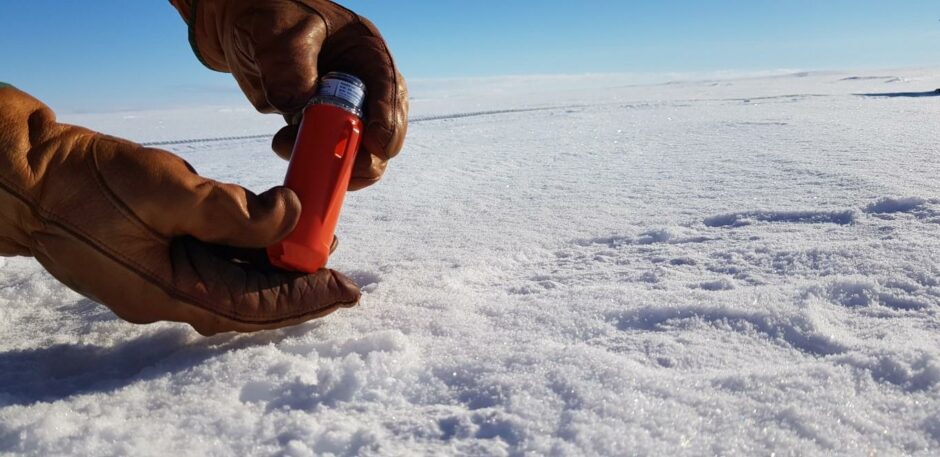 A seismic survey firm owned by oil giant BP has developed equipment which is hoped to one day be used on the moons of Saturn or Jupiter.
Stryde has used a network of seismometers on Antarctica's Brunt Ice Shelf, the closest environment to the icy moons of the solar system, with the hope to one way help the search for life in space.
The "nodes" are being used to gather data on seismic vibrations in the shelf and ocean conditions underneath, laying the groundwork for future space science missions.
Similar sensors are currently recording data on Mars as part of the Nasa InSight mission, and a further set will be sent to the Moon as part fo the NASA Farside Sesimic Suite in 2024.
The hope is that sensors such as these will be sent further out into the solar system in time.
The project is being carried out between Stryde, British Antartctic Survey, and Oxford University.
BP owned Stryde deployed the nodes last month, expected to last two to three weeks ahead of a longer expedition next year.
Co-lead on the project, Tarje Nissen-Meyer, from Oxford University, explained: "Seismic instrumentation and data are extremely sensitive to a large range of ground motions and can therefore aid in monitoring ice dynamics, which is crucial for climate change, in such vast, remote places as Antarctica."
Sue Horne, head of Space Exploration at the UK Space Agency, said: "This project will help prepare for future missions to the moons of Saturn and Jupiter, while using instruments first designed for Mars to monitor the formation of cracks in the Antarctic ice. It's an excellent example of how space technology is providing benefits here on Earth."
Stryde's roots go back to hydrocarbons, when now CEO Mike Popham started developing nodes while working with BP.
BP formed a partnership with Rosneft and Schlumberger's Western Geco unti to test the technology. The process included substantial field trials in a variety of challenging environments, from the extreme cold of Western Siberia to deserts in the Middle East.
During this time, the company's nodes broke a land seismic trace density record during work with United Arab Emirates' Adnoc. Higher density of nodes provides the operator with a clearer view of the subsurface.
Stryde emerged as a company in mid-2019, with backing from BP Launchpad.
Mr Popham  added: "We are proud to play a role in advancing science through this experiment which will aid future efforts in the search for life elsewhere.
"We are delighted to see Stryde Nodes being taken into such an extreme environment on this very exciting project and of course, we are excited to have the opportunity to collaborate with this fantastic team."
Recommended for you

VIDEO: BP undertakes first 4D seismic survey at Clair Ridge