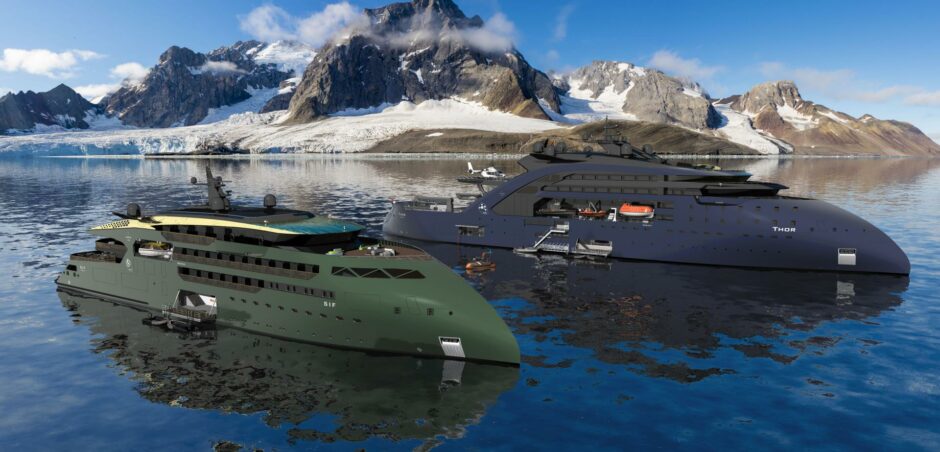 More than six decades since the idea of building nuclear-powered merchant ships hit the headlines, the concept is back, radically revamped by Norwegian ship designed and builder Ulstein.
The group, headquartered in Ulsteinvik, Norway, chose a cruise fair in Miami to launch its concept – Ulstein Thor – which is a 149m 3R (Replenishment, Research and Rescue) vessel.
At its heart would be a Thorium molten salt reactor (MSR), generating vast amounts of apparently clean electricity.
Like older reactors, one thing doesn't change; the MSR produces steam which in turn drives turbo-generators to generate electricity. The big difference, however, is that unlike earlier nuclear technology that must operate continually at a constant power output, the molten salt reactor can rapidly adjust its power output and adapt to external demand.
In addition to using electric-drive for propulsion, the idea is that Ulstein Thor will act as a mobile power/charging station for a new breed of battery-driven cruise ships.
"The vessel concept is capable of making the vision of zero-emission cruise operations a reality," says Ulstein.
It claims that its Thor concept "may be the missing piece of the zero emissions puzzle for a broad range of maritime and ocean industry applications".
EV would not be surprised if the model was flexed for offshore windfarm motherships of the kind becoming increasingly prevalent in the North Sea.
But the primary focus for now is the boutique, high-value cruise ship market. With that as the priority, the company has also developed the Ulstein SIF concept to complement Thor.
Both Thor and SIF are based on the well proven X-Bow concept initially developed for oil & gas supply services applications Thor has an X-stern (cruiser) while SIF has what is best described as a squared, heavily raked almost "slipper" stern
The initial proposal would see the 100m SIF craft carry up to 160 personnel on board (POB) and be classed as a zero-emission expedition cruise ship.
This Ice Class 1C vessel will run on next-generation batteries, utilising 'Thor' to recharge while at sea.
"We have the goals, ambition and environmental imperative to switch to zero-emission operations, but, until now, we haven't had the solution," said CEO Cathrine Kristiseter Marti, Ulstein.
"We believe Thor might be the answer we've been looking for. Thor is essentially a floating, multi-purpose 'power station' that will enable a new battery revolution.
"Expedition cruise ships operate in increasingly remote, and environmentally fragile, areas. At the same time, the industry faces growing pressure from diverse stakeholders to preserve nature as it is and ban the environmental impact of cruising.
"Thor enables replenishment of energy and supplies on site, while also boasting the technology to facilitate rescue operations, as well as conducting research tasks. It is, in effect, a crucial piece of infrastructure to support sustainable and safer operations. 'Thor' literally has the power to change our entire industry."
MSRs are apparently regarded as safe, efficient and operationally proven solutions that work by dissolving thorium – an abundant, naturally occurring metal with low radioactivity – in liquid salt.
"The ensuing chain reaction heats the salt, producing steam to drive a turbine and create electricity."
Although developments on land are well documented, its potential for delivering clean maritime power has yet to be incorporated into a vessel design, though various ideas are currently being worked by different companies and organisations.
Jan Emblemsvåg, Professor at the Norwegian University of Science and Technology and an expert in the field of Thorium and nuclear power generation said: "MSRs have enormous potential for enabling clean shipping. There is so much uncertainty over future fuels, but here we have an abundant energy source that, with the right approach, can be safe, much more efficient, cheaper, with a smaller environmental footprint than any existing alternative.
"From my perspective, I see this as the most viable, and potentially the only credible, solution for a zero-emission fleet that can operate under commercial terms and cost levels. The 'Thor' concept is exactly the kind of innovation we need for sustainable success at sea."
Only three nuclear merchant vessels like this have ever been built, though there were many more on drawing boards throughout in the 1960s into 70s.
Those that made it sea include the elegant and now-preserved Savannah (US), the Otto Hahn (Germany) – which was scrapped – and the controversial and troublesome Mutsu, which never carried a cargo and was converted for oceanographic research, having had its reactor removed in 1995 and replaced with diesel machinery.
Only Russia operates nuclear icebreakers, but it is Finland that leads the way in terms of their design. And alongside Ulstein, various companies and countries appear to be seriously considering new generation cargo-nukes.
They may even appear in the North Sea. Last year, the UK's Maritime & Coastguard Agency said that a consultation had been launched on proposed regulations for nuclear-powered ships that would enable UK-flagged vessels to use the power source and international vessels to visit its ports.
Recommended for you

Shipping Line: French chocolatier orders radical sailing cargo ship