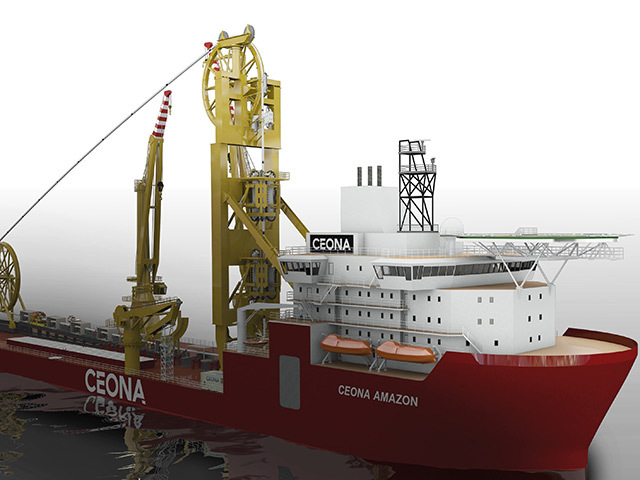 SURF contractor Ceona has christened its flagship deepwater field vessels after successful sea trials.
Ship building specialist Lloyd Werft delivered the Ceona Amazon to Bremerhaven, where it was christened.
The  device was built to perform in multiple pipelay and operational modes and features large storage capacity and heavy subsea construction.
A pipe laying system will now be installed alongside two 400 tonne subsea crane that can install heavy subsea structures.
Stuart Cameron, chief operating officer, said: "The vessel is ideally suited to the deeper waters of West Africa, the Gulf of Mexico and Brazil.
"After installation of the pipe-laying system and the twin 400 tonne cranes, the Amazon will be the second new vessel – after the Polar Onyx – Ceona will bring to the market on time and in less than a year. The Polar Onyx and the Normand Pacific have got significant experience in the Brazilian deepwaters for Petrobras, and for Independent, IOCs and NOCs in the Gulf of Mexico and in West Africa."
The Ceona Amazon is 199.4 metres long and 32.2 metres wide, drawing 8 metres with a gross tonnage of 33,000.
She is due to enter service early 2015.
Recommended for you

Damen orders crew change vessels and DEME Orion takes shape