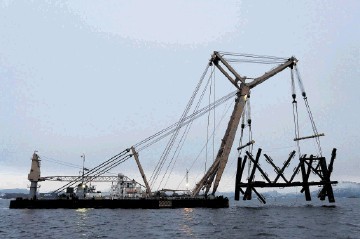 Oil and gas decommissioning specialists can learn lessons from Scotland's largest music festival T In The Park at a conference later this year.
The consultant responsible for erecting and dismantling the stages at music event will share her experiences at the annual Offshore Decommissioning Conference as part of a new approach by organisers Oil and Gas UK and Decom North Sea.
Consultant Katt Alexander, has several years' experience producing large scale outdoor music, sports and cultural events, as well as stadium and venue based concert tours.
Mick Borwell, environment director at Oil & Gas UK and conference co-chair, said: "We are taking an entirely different approach with the conference this year. These are difficult times for North Sea oil and gas and our sector is tackling the situation by looking for new ways to be more efficient. It makes sense to take that same approach when it comes to decommissioning."
Delegates will hear talks on how efficiency in decommissioning can be improved and how costs can be reduced by taking steps such as standardising and simplifying the process. New techniques and technologies will be highlighted and case studies shared from late life operations and decommissioning activities.
"Looking outside oil and gas and taking learnings from other sectors which face their own distinct, large-scale challenges should be illuminating and prompt us to think about decommissioning in new ways," said Borwell.
Representatives from the nuclear and renewables industries will give their insights at the event, taking place in St Andrews from November 17-19, which will also feature an authority in decommissioning with more 30 years' onshore and offshore experience.
Brian Twomey, from Reverse Engineering Services Limited, will use his three decades of international experience to outline the size, scope and challenges of decommissioning around the world.
"There are major challenges with the application decommissioning law and regulation, accurate cost estimation and local content worldwide, which can have a major effect on worldwide decommissioning. I will discuss what we have learned to date," said Dr Twomey.
Karen Seath, Decom North Sea chief executive added: "Innovative thinking is a key factor in ensuring the development of effective solutions and strategies for safe, efficient decommissioning.
"Decom North Sea has long been an advocate of cross-sector learning, and I'm delighted that this year's conference programme reflects this so clearly."