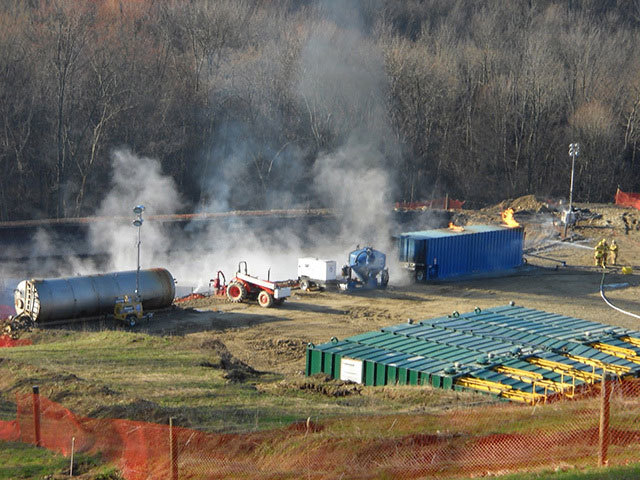 Wall Street's oil analysts are getting harder to impress.
After two straight quarters when the U.S. shale industry posted outsized oil production figures that clobbered expectations, explorers are finding it more difficult to be overachievers. Once-innovative engineering tricks such as drilling two-mile long sideways wells and cracking the rocks with mountains of sand are becoming routine, depriving oil companies of methods to deliver shockingly big output numbers.
For every third-quarter outperformer like Marathon Oil Corp. or Chesapeake Energy Corp., there have been production duds such as Cimarex Energy Co. and Rice Energy Inc., which were slammed by investors on Thursday after their output fell short of analysts' targets. Cimarex tumbled as much as 7.6 percent for its worst intraday loss in eight months after reporting an output miss; Rice fell as much as 2.6 percent.
"Whereas in the last couple of quarters, everybody smoked expectations, now we're starting to see more and more misses," said Gabriele Sorbara, an analyst at Williams Capital Group LP in New York. "I think these companies are reaching limitations on how long they can drill lateral wells."
For the past 2 1/2 years, shale explorers have been retrenching and reinventing their business plans as the worst oil crash in a generation wiped out trillions in market value and made many of their most ambitious drilling prospects worthless.
As headcounts dwindled and management teams focused on asset sales and keeping lenders at bay, geologists and engineers devised more intensive ways of tapping deep layers of crude, boosting volumes enough in some places to make fields profitable despite low prices.
Target Miss
Cimarex disappointed investors when it reported third-quarter output equivalent to 157,768 barrels a day, below the 162,483-barrel average of 19 analysts' estimates in a Bloomberg survey. The Denver-based driller also lowered its full-year production target by 2.5 percent, assuming the mid-range of the company's forecast. Cimarex closed 5.3 percent lower in New York at $121.53.
Rice likewise reported less-than-stellar production numbers, pumping the equivalent of 747 million cubic feet of natural gas a day, below the average estimate of 759.7 million. The shares rebounded somewhat before the close to settle 0.4 percent higher at $21.74.
Notable Outperformers
While the underpeformers wallowed, Marathon jumped as much as 15 percent for its biggest intraday gain in nine months. Investors rewarded the company for exceeding financial and production estimates; the 11-cent per-share loss wasn't as bad as the 20-cent deficit analysts' foresaw, and the company's 402,000 barrels of daily output beat every single estimate in the survey.
Chesapeake surged more than 9 percent after saying it pumped the equivalent of 638,100 barrels of crude a day in the third quarter, exceeding most of the 23 analysts' estimates in a Bloomberg survey. The Oklahoma City-based shale driller closed 1.7 percent up.
EOG Resources Inc., the shale driller expanding its footprint in the sought-after Permian Basin, rose in after-hours trading following an earnings report that showed it met output targets for the quarter and is increasing its expectations for growth in coming years. The shares jumped to $94.43 at 5:06 p.m. in New York, after settling at $92.08 at the close of regular trading.
Recommended for you

Exxon triples share buybacks to $30 billion