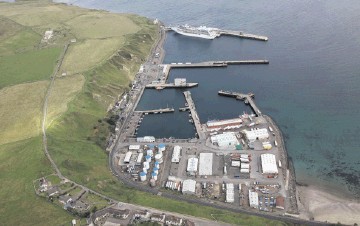 Oil and gas services firm ASCO is forcing workers to be available 24/7 under shift changes that have been branded "extremely serious".
Employees are being asked to be "contactable and available for work at all times" during their seven-day working week, according to documents seen by Energy Voice.
The affected employees were originally on contracts for 8am to 8pm shifts on a week on, week off, basis.
But the oilfield support company, which has North Sea bases in Aberdeen, Peterhead and Great Yarmouth, claims that the current 12 hour fixed shift pattern is preventing the effective loading and unloading of client vessels.
Bosses at the firm said that current labour patterns do not match up with the schedules of ships coming in and out of harbours at all hours of the day.
And with the current North Sea climate they have decided to ditch current working practices and implement new hours for a "small group of people".
Around 85 employees are understood to be affected by the changes in Peterhead alone.
They currently work 77 hours per fortnight.
Under the proposed move to "full flex shift" they will only work 67 hours a week but will be required to be on hand at short notice.
In the documents laying out the shift changes, the firm states that "where practical" a days notice will be given to employees when they are required to work.
The proposal goes on to say that the "minimum" notice an employee can expect is eight hours but that this may be less or more "dependent on operational requirements".
One insider branded the changes "unsafe" as workers could be on the go for up to 15 hours at a time.
And an entitlement to an 11 hour break between shifts can be "reduced dependent on operational requirements."
In an FAQ paper, ASCO bosses say they recognise that those asked to come in on a 9am to 9pm shift will not be around for their children and that this "may pose difficulties" for some.
However the employees are encouraged to raise concerns at individual consultation meetings.
Unions hit out at the move last night and have called for talks over the proposals.
They claim the changes put workers at risk of fatigue and more serious consequence that may arise from an overtired workforce making mistakes.
Unite regional officer Victor Fraser said: "We have carried out consultations with Unite members at Asco in Peterhead, and they have been unanimously against the introduction of these shift patterns.
"Workers deserve to be able to plan their lives so that they can get proper rest, and so they can properly enjoy their family and social life. Our members believe these shift patterns don't allow for that.
"It's also recognised by the Health & Safety Executive that irregular working hours and badly-planned shift patterns are a major cause of worker fatigue, and the consequences of that could be extremely serious.
"We urge Asco to sit down with Unite to discuss our members' concerns, and if Asco wants to be recognised as a reasonable employer then it should not force through any changes without proper discussion and negotiation."
The Health and Safety Executive said it was up to individual companies and operators to make sure they complied with working time directives and effectively manage the risk of staff fatigue.
A spokeswoman for ASCO said: "Current working practices do not allow us to effectively match labour to vessel loading and unloading.
"This leads to high levels of inefficiency. We need to move to more flexible ways of working to ensure the North Sea remains viable as a source of oil and gas for as long as possible.
"We place vital importance on the health, safety and well-being of our employees and our proposals are in line with the Working Time Regulations.
"We are proposing that a relatively small group of people move to a highly flexible working pattern and that they work relatively fewer hours per month and be compensated for their flexibility.
"These revised ways of working have already been successfully introduced in Aberdeen."
Recommended for you
X

Mental health expert warns of more accidents offshore due to North Sea downturn