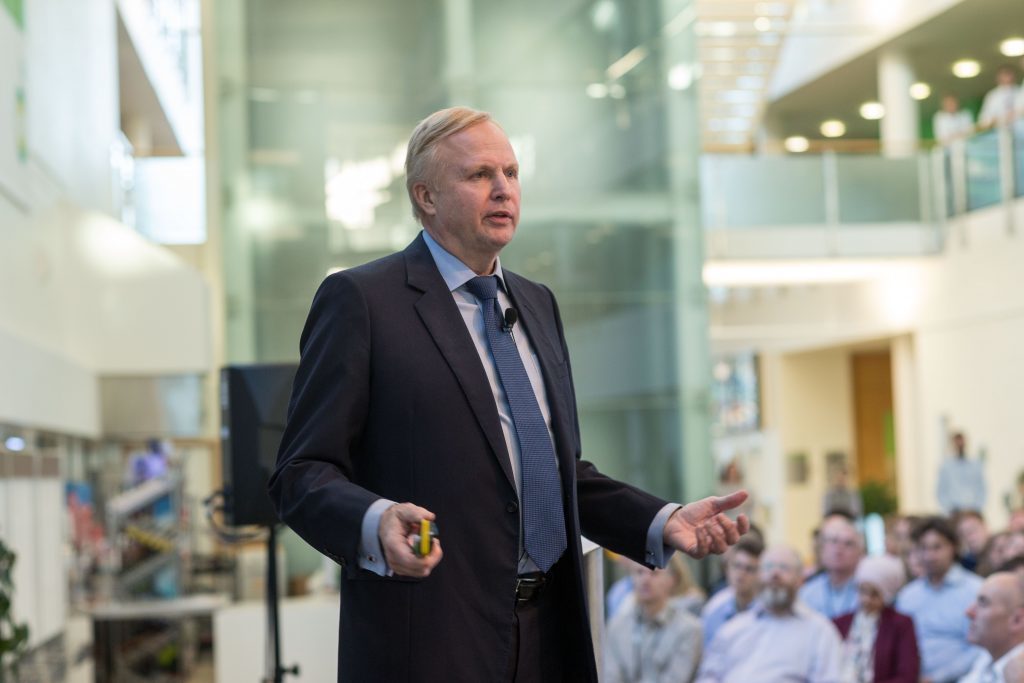 BP's chief executive Bob Dudley explained how his chief economist relies on a 'crystal ball'.
But lately the tool has only been half as effective.
The company leader said: "Our chief economist says that economists use two tools. He talks about the crystal ball and rear view mirror.
"You take the trends of the rear view mirror and you put it in the crystal ball and you make projections.
"But this time there is no rear view mirror because of shale in the US, so everyone is wondering what happens if the price rises? How fast will the shale pump out? At what price is that moderated to keep the world in balance?
"I think we are in new world here. I think if the price was to spike it would moderate itself with effectively a new swing producer."
He added: "The world of energy people forget really is a commodity. It goes up and down. It's like copper or iron, when you get the marginal barrels and stocks start to build up the prices really drop. This one reminds me of the 1980s. It's a supply led drop in price. I was working in Aberdeen, Scotland at the time.
"And the expressions then were, 'Staying alive in '85, Get it fixed in '86 or Chapter 11 in '87".
"It feels that way this time as well. It's very different to 2008 and 2009, which were a demand led drop and then and it came right back up. This was supply led drop."
The most recent downturn is not the first time the industry veteran has found himself at time of crisis with no reference point.
Mr Dudley was speaking to GE's chairman Jeff Immelt at GE's annual conference about his experience leading the past six years, when Dudley said: "Our circumstances have certainly been challenging. We faced almost oblivion. I tell the team when your debt becomes untradeable it's a problem and we were there for a little while.
"But with people it's amazing when you have a crisis like that how a team steps-up and you learn a lot about people.
"You keep calm. You have to ask fast, but deliberate. Don't overreact. Stay calm.
"And you get the commitment of people that there is way through it. It's not going to be easy. There is no easy way. It's just step, by step, by step and getting people to realise that.
"And once you've been through one of those, everything else feels like 'Okay now we can do it.'
"You rebuild your confidence. And I do think when you're in long, sustained periods of difficulties you actually have to retain a sense of humour. Otherwise everything becomes too difficult."
He added: "I think our name become synonymous with BP is Big Problems for a while."
However, he insisted the firm has worked tirelessly to quash that, stripping out costs and rebooting strategies.
He said: "I know for BP, one of the drilling companies said in 2011 to me, 'I love working for BP. It's a marketplace. Do you realise three countries are bidding for one of my rigs?'
"It's not supposed to be that way. I think organisations have since adjusted as well.
"What we are trying to do at BP is make 75% of the cost reductions we've embedded sustainable. We have it get into the mind-set of the company that it has to sustainable."
He hailed Opec's "historic" production decision as a sector confidence boost. The firm is now building its business around $55 for 2017.
"Everyone likes low price if you're in a consuming country. But this is really difficult for producers and it sets off instability. Venezuela is a good example of what can happen, so bringing this price is up is good for the world," he said.
He added: "One thing that is different in '08 and '09 – and we were like that and it's not a popular thing – is oil companies would send letters out to their suppliers and say cut your prices by 15%. And then send another letter out that said cut by 10%. Everybody realised that it didn't work, so I think there's a trend in the industry for the producers and suppliers all the way through the chain to work together much better. That seems to be a permanent way of thinking, so I think we will continue to do that going forward. "
But the volatility within the sector hasn't been the only disruption to test the industry's leadership.
Dudley touched on the current geopolitical landscape.
"What we're seeing this past year is disruptive political models," he said.
"You've seen Brexit in the UK, so Europe in relation to Britain is a new disruptor. The election in the US clearly is a disrupter of traditional political systems in the United States.
"You never know how they're going to play out."
However, Dudley's advice to Mr Immelt for facing a political landscape as crowded and loud as today's was to simply "take a deep breathe and don't overreact".
He said: "This is a long-term world we're in. We make investments seven to 10 years out. You can't overact to a short-term political disruption."
He also suggested the industry had a role to play in assisting policy makers shape and make innovative strategies like the development of carbon markets.
"They can work when they are designed well," he said.
"And politicians and policy makers can design the markets for carbon and then you have to be able to connect them around the world. Because in way if you develop on in in Europe and you develop one in China then you have got to figure out way to join them together.
"It's a bit like joining currency markets, but these are things that I think are important."
What else is important for the industry leader? Reintroducing "common sense" into the bottom line, according to Dudley.
"I think if the industry can do that the costs will come down," he said.
"We can't forget. We just can't forget this time. "
Recommended for you

Europe's New Sanctions on Russian Oil Kick In: What Changes?