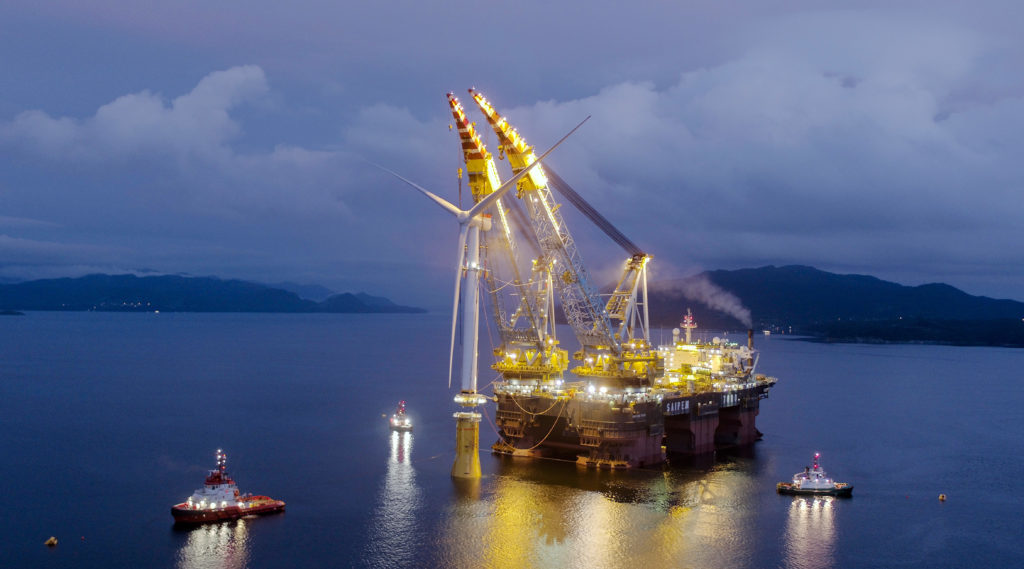 Saipem SpA is looking beyond black gold, to green.
The Italian oil-services provider, which builds projects for the fossil-fuel industry, says it may get more than half its work from clean-energy clients in a decade. That reflects a persistent lack of oil-company investment in the wake of crude's crash, and a boom in renewables.
"In 10 years, green energy could account for 50, 60 percent of our portfolio compared with about 10 to 15 percent today," Chief Executive Officer Stefano Cao said in an interview in Rome. "We are particularly interested in offshore renewables, in particular in France."
Saipem was hard hit by oil's collapse, and its stock is still trading more than 70 percent below its price four years ago. While crude has recovered to more than $80 a barrel, many explorers and producers remain cautious to commit to new investments, allocating the extra cash to dividends and buybacks instead.
"Oil prices are picking up again, but oil companies are not yet increasing spending by the same token," Cao said. "The industry has changed after the crisis, so the capex bounce is not going to be as large as the recovery in oil prices."
The Milan-based company has already made inroads in clean fuels. In July, it agreed to build a low-emission plant in California to produce renewable power, biomethane, ethanol and other products from sugar cane. It also bid for an Electricite de France SA wind-farm project in the Atlantic, in a tender yet to be decided.
"We have a competitive advantage given our vessels and engineering capabilities," Cao said. Oil projects do continue, and Saipem is "active in the decommissioning sector with projects carried out in the North Sea," he said.
Contract Wins
Indeed, there are signs of life in the oil and gas industry. Saipem said Monday it won offshore engineering and construction contracts in Azerbaijan, the North Sea and the Republic of Congo with a combined value of about $400 million. Yet Cao doesn't expect capital-expenditure growth in the industry to reach double digits next year.
"There are no strong signals of change, but some are starting to show a slow comeback to investments," he said. "If 2019 still appears to be a year of transition, 2020 may be the year of change."
That tentative optimism — which also follows "draconian" cost cuts at Saipem and an overhaul of the company structure — puts it in a position to consider mergers and acquisitions once again, according to the CEO. Where and when a deal might be made, he declined to say.
Recommended for you

Saipem teams up with Aramco for new national champion