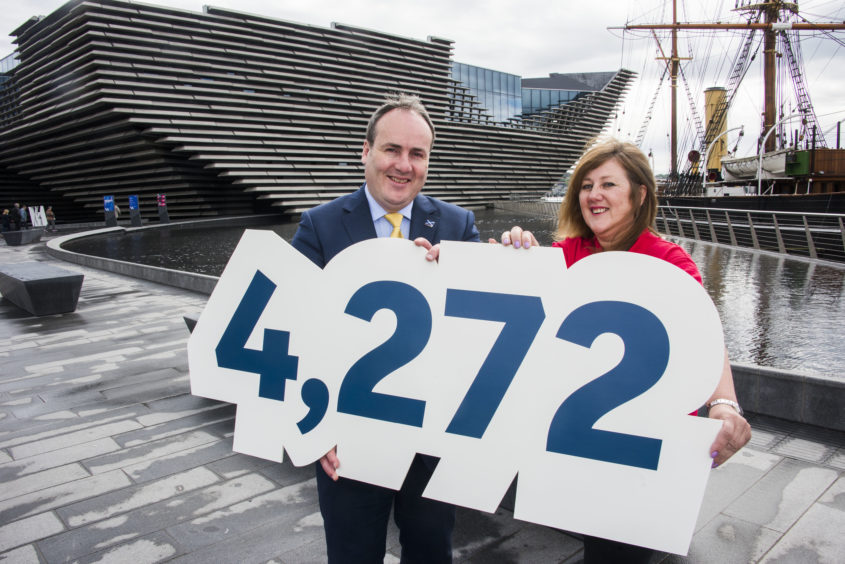 Hundreds of Aberdonians have been helped by a multi-million oil and gas training fund since it began three years ago, according to a Scottish skills agency.
New figures show the Scottish Government's £12 million Transition Training Fund has helped almost 800 people work towards fresh employment since the oil downturn.
Skills Development Scotland (SDS) revealed yesterday that of the 3,900 applicants who received "tailored support", 793 were helped in Aberdeen City, while 890 were offered training across Aberdeenshire.
However, a total of 4272 people accessed training with the inclusion of other types of support, such as teacher training.
But Scottish Labour MSP and energy sector spokesperson Lewis Macdonald said the impact of the downturn "continues to be felt" across the north-east.
Scottish Energy Minister Paul Wheelhouse met with Catherine Philips from Inverurie  who launched her own business offering first aid training to dog owners, having previously spent 35 years working in the oil and gas sector.
She said: "It was a huge shock to be made redundant as I was doing a job that I really enjoyed.
"I don't think I would have been able to pursue my business if it wasn't for the Transition Training Fund.
"Getting that support has allowed me to take the next steps."
The data also showed that 63% of those using the service were in current employment, with 53% of that number remaining in the oil and gas sector.
The remaining 47% have transition to work in new sectors.
Meeting with SDS advisors in Dundee yesterday, Mr Wheelhouse described the fund as having "a broader significance" of helping maintain high value skills across the north-east and Tayside.
He added: "I am particularly pleased that more than 3,900 people have been helped with tailored support, in comparison with an initial estimate that the fund might support up to 3,000 in this way."
Mr Macdonald said he was glad that the fund had "helped some of those who lost their jobs in the oil and gas downturn" and that the government had "finally" released some "limited data" on the project.
But he added that the impact on the wider north-east economy "continues to be felt, with unemployment rates of over 5% in Aberdeen for the first time in years, and a loss of income for shops and other businesses across the local economy."