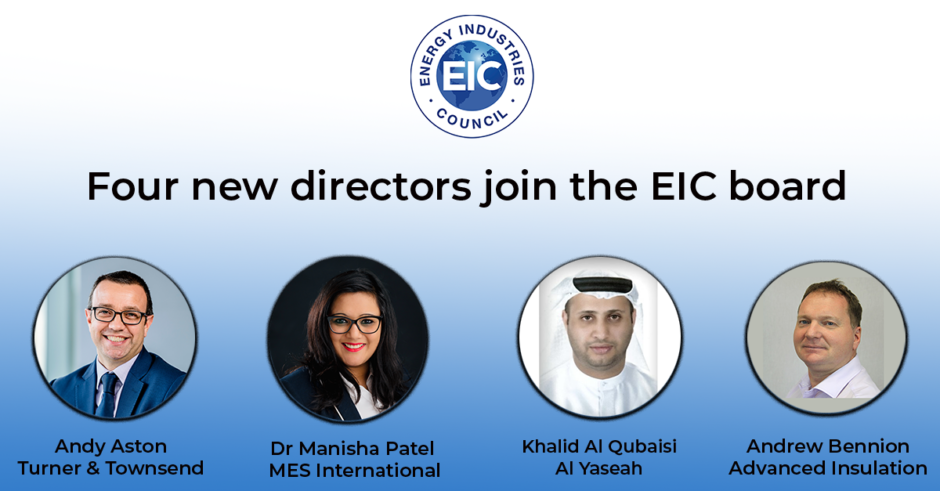 The Energy Industries Council (EIC), the leading trade association for companies that supply goods and services to the energy industries worldwide, has appointed four new non-executive directors to its board.
The additions further represent the fast-growing and ever more diverse make-up of EIC members, recognising the increasing importance of internationalisation, technology, energy transition and diversification across all energy sectors.
As the trend globally continues towards decarbonisation, sustainability and inclusion, the new-look board will continue to provide governance and represent the views of EIC members at a time of significant upheaval in the energy sector.
Speaking about the recent additions, EIC chief executive Stuart Broadley said: "EIC has been fortunate to see growth in membership in 2020 as companies seek new data, networks and insights to accelerate their growth in ever-more challenging markets. We have therefore highlighted four strategic priorities for 2021: supply chain resilience, energy transition and COP, increasing exports; and diversification. Our Board will continue to work with EIC's management team to ensure we deliver on these priorities".
Dr Manisha Patel, Business Development Manager for MES, Andy Aston, Global Managing Director – Natural Resources at Turner & Townsend, Khalid Mohamed Helal Al Qubaisi, Managing Director at Al Yaseah, and Andrew Bennion, Managing Director at Advanced Insulation all joined the EIC board on 17 September.
Andy Aston joined global professional services company Turner & Townsend in 2012 and was appointed as Managing Director of the company's global natural resources business in 2017. He sits on the company's global management and operations board and is responsible for the renewable energy, oil and gas and mining portfolios.
Andy Aston said of the new role: "I'm delighted to be joining EIC's Board. It is an exciting time for the global energy sector as it balances delivering resilient and reliable supply while reducing the environmental impact of operations. We, as an industry, have a real opportunity to deliver change and to shape a secure and sustainable energy future."
Dr. Manisha Patel, a driven business development professional at MES who holds a PhD in chemical engineering in the topic of renewables, has been a strong advocate of the EIC and has been recently contributing to the EIC as a Southern Region Committee Member.
Speaking about her appointment, Dr Manisha Patel said: "I am absolutely thrilled to be joining the EIC Board of Directors and to have this fantastic opportunity to support the direction and diversification of the EIC for the benefit of its global community.
"The EIC is an organisation that is very close to my heart as it has supported our business development activities at MES over the years, but more personally helped make a male dominated industry a welcoming one where we are able to conduct business more effectively.
Khalid Mohamed Helal Al Qubaisi, an aeronautical engineer by profession, served in numerous positions within the government of Abu Dhabi for the past 24 years, and as a business strategist guiding over 30 companies, said: "I am thankful for this wonderful opportunity and consider it an opportunity to grow together and add values to the business community".
Andrew Bennion is Managing Director at Advanced Insulation, providing strategic leadership to the company, which focuses on helping to make the world a safer place by developing technically advanced fire protection, insulation and marine products for energy and marine industries.
He said: "I am delighted to be joining the EIC at such a challenging and exciting time. I am deeply passionate about the energy sector and I look forward to sharing my experience and knowledge to benefit the EIC and its members."
All four new appointments attended their first EIC Board meeting on Thursday 17 September, held virtually due to COVID-19 restrictions.
Recommended for you

ExxonMobil and ASCO among quartet of new EIC board appointments