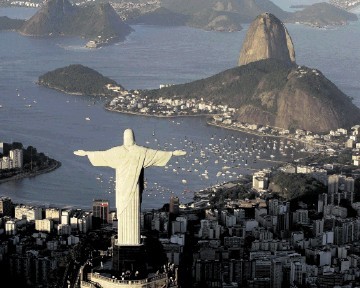 The heads of two of Brazil's largest conglomerates were detained by police as part of a widening corruption investigation at state oil company Petrobras.
Marcelo Odebrecht and Otavio Azevedo – presidents of the Odebrecht and Andrade Gutierrez holding companies – were arrested as part of a federal operation that involved 220 police in four states, the companies said.
The police were carrying out judges' orders for the detainment and arrest of a total of 12 people, as well as 38 search and seizure orders, the firms added.
The Odebrecht and Andrade Gutierrez conglomerates include two of Latin America's largest building companies.
Petrobras has said it was hoodwinked by a few of its employees who allegedly took bribes from a cartel of construction companies and shared the proceeds with politicians.
Petrobras has written down $2billion in graft losses, and said that figure may rise.
"We have no doubt that Odebrecht and Andrade were leading the scheme," prosecutor Carlos Lima said in a televised press conference from Curitiba, where the case is before a judge.
Brazil's federal police are investigating money laundering, embezzlement and racketeering as part of the probe.
Odebrecht's construction unit said in an e-mailed statement that its offices in Sao Paulo and Rio de Janeiro had been searched and arrest warrants had been carried out.
The firm said the detentions were unnecessary as the company and its executives had cooperated with the investigation.
Odebrecht owns Latin America's biggest construction company and shares control with Petrobras of the region's largest petrochemicals maker
It is controlled by the billionaire Odebrecht family, headed by chief executive Marcelo, who is the grandson of late founder Norberto Odebrecht.
Andrade Gutierrez said it was aiding the police investigation and denied any involvement in relation to the so-called Carwash operation, referring to investigations into a scheme of alleged kickbacks on service contracts at Petrobras.
The corruption investigation was dubbed Carwash because of money laundering operations run out of a gas station
The billionaire Andrade and Gutierrez families share control of the Andrade Gutierrez conglomerate. It has interests in construction, energy, telecommunications, logistics, property and infrastructure.
The arrests are the most senior-level detainment of corporate executives since the Petrobras scandal broke last year.