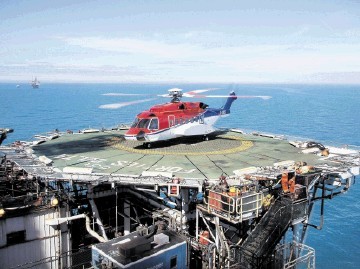 North Sea helicopter operator CHC is leading the way with innovative new technology offshore.
The company has replaced paper documents to create an Electronic Flight Bag (EFB).
It combines pilot logs, flight procedures and other documents in the field onto one tablet device which pilots can use when flying to different North Sea destinations.
The EFB's allow the pilots to also have rapid, worldwide update of essential information.
Chief pilot Will Hanekom spoke to Energy Voice about how the technology is paving the way for CHC in both innovation and safety.
He said:"We used to in the past carry many, many manuals, about 40 pounds worth of manuals. Thick, paper driven manuals and they were difficult if you had to very quickly find data or access to the right information, it could have been time-consuming.
"With our new application, we can very quickly reference our manuals and the manuals are very searchable as well so if you're looking for something very specific and you can't quite remember where it was the last time."
The tablet can also update the pilots on weather, and they can also have a look at all the potential destinations they are headed too.
Hanekom said it the change has been "very important" for CHC to have the best software for pilots in the cockpit.
He said: "We're very lucky in the oil and gas industry – we have large resources and the will to improve what we do to make it more safe and efficient all the time – and as a function of the oil and gas industry and the aviation side that we now marry up.It is the only way forward. We have to find the best possible ways to give us to fastest, efficient and most of all the safest possible deliverance."
Watch the video below.
Recommended for you

Is it time to change the identity of the energy industry?