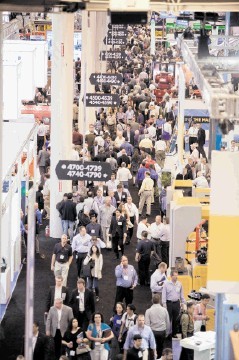 The oil industry is booming in North America where shale has become the biggest industrial success story of the decade despite mounting environmental concern about the heavy use of rock fracturing to release the prize.
With so much headline attention being given to the fast-growing, controversial shale-based extraction of hydrocarbons and Shell's offshore failures in the Arctic, wider conventional activity has become overshadowed, including offshore in the US Gulf of Mexico where major oil and gas discoveries continue to be made and developed.
That does not mean that the 2013 Offshore Technology Conference in Houston will be any less important than prior OTCs.
Indeed the show is expected to set new records for attendance as many thousands of delegates from around the world beat a path to Houston for the May 6-9 super-convention.
This includes several hundreds of Brits travelling under the banner of the 40th Press and Journal/Munro's delegation . . . a partnership that has thrived for four decades so far.
According to the Texas Independent Producers and Royalty Owners' Association (TIPRO) in its inaugural "State of Energy Report", oil and gas accounts for nearly 1million jobs across the US, with Texas regarded as the epicentre of activity and new jobs creation.
The Lone Star State accounts for almost 40% of the 971,200 jobs recorded for 2012, and where Houston's position as the world's offshore energy capital is generally regarded as unassailable.
The number of businesses in the US oil and gas industry was 40,600 in 2012, up from 37,400 in 2008, according to the new report.
This roughly parallels the situation in Britain, where more than a third of upstream employment (400,000 or so jobs in total), is concentrated in Scotland, with Aberdeen regarded as the sector's heart.
In Texas, the oil and gas industry continues to provide economic support unparalleled anywhere else in the US, says TIPRO, accounting for 39% of all oil and gas employment in the nation.
The oil and gas industry supported 379,800 jobs in Texas last year, which represented more than 4% of all private sector employment in the state.
"The first half of 2012 showed a net increase of 34,600 jobs in the Texas oil and gas sector, with full-year projected growth expected to exceed 50,000 net new jobs," says TIPRO in its study.
This compares with a 7% (64,800 jobs) increase on 2011 in the national total to reach last year's 971,200 jobs total. TIPRO says the US oil and gas industry employed as few as 830,000 in 2008.
The association reports that Texas jobs also pay extremely well, with an average annualised wage of $128,100, 150% higher than averaged private sector wages in the state.
This compares with an average annualised oil and gas wage of $107,200 across the US last year.
But the top earners of all were those engaged in oil and gas extraction, with an annualised average wage of $162,200 last year.
TIPRO says the shale gas revolution has much to do with present successes.
"Thanks to recent advancements in technology, coupled with innovations related to hydraulic fracturing and horizontal drilling, this is a truly remarkable time for the oil and gas industry.
"Domestic production of oil and natural gas continues to surge upwards, reaching levels not seen in the US in more than 15 years, much of which is coming from the Lone Star State," notes the report.
According to the Texas Railroad Commission (RRC), the Texas average rig count as of January 2013 was 812, representing approximately 48% of all active land rigs in the US.
In 2012, total Texas reported production was 717million barrels of oil and 8trillion cu.ft of natural gas.
"Accordingly, the US has been able to lessen its dependence on petroleum imports from foreign nations, and is able to take advantage of the resources from our own backyard," says TIPRO.
"This growing domestic development of oil and natural gas has helped boost the economy at a time when it is needed most. The oil and gas sector continues to pour money into local, state and federal government coffers, which in turn is helping to support public education."
Altogether, oil and gas companies paid more than $9.3billion in Texas state and local taxes and royalties in fiscal year 2011, with total revenue estimated at more than $10billion for 2012.
TIPRO, formed in 1946, records that taxes paid per employee by oil and gas companies were approximately six times more than the amount paid by other private-sector companies per employee, according to the Texas State Comptroller.
But TIPRO complains of obstacles standing in the way of progress. They include "bureaucratic" organisations like the US Environmental Protection Agency (EPA), US Fish and Wildlife Service (USFWS); and the Department of Interior.
The association alleges they will attempt to impose regulations and restrictions on industry activity, so "threatening the livelihood of oil and gas producers, particularly independents who collectively drill up to 95% of the oil and natural gas wells in America".