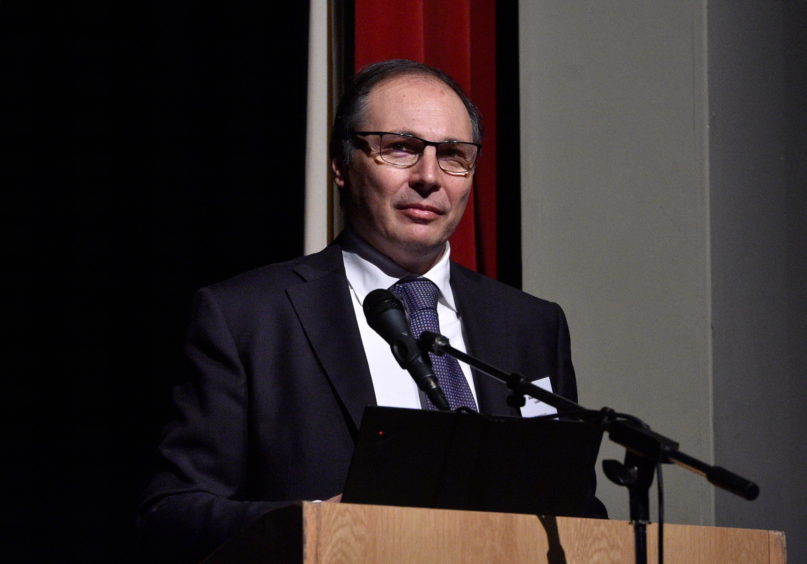 Digital technology will be key to helping the oil and gas industry ride out a "perfect storm" of challenges facing its future, the audience heard at an event in Aberdeen last night.
Kaveh Pourteymour, chief information officer at Neptune Energy, said it was more difficult for oil and gas firms to secure investment, attract talent and convince environmental groups they can be part of the solution to climate change.
But Mr Pourteymour stressed that the oil industry also found itself in an "exciting time", despite recent "negative news" about the sector, which has been targeted by green activists.
He said digital technology was maturing rapidly and provided a real opportunity for the industry "not just to make money, but to operate more efficiently and cement its place as a "sustainable" part of the "energy mix".
Mr Pourteymour was speaking at Energy Voice's event, Digital Energy – From Data to Value, at the International School in Aberdeen.
More than 250 audience members heard presentations and a lively panel debate featuring big hitters from the energy and information technology industries.
They discussed the oil and gas industry's reputation for hoarding vast amounts of data, but not putting it to good use.
Mauro Grimoldi, global energy industry director at Luxoft, a DXC Technology company, said successfully developing digital technology could deliver twin benefits for businesses.
Companies can lower their operating costs using digital tools, but they can also generate revenue by taking those same technologies to market.
But Mr Grimoldi warned that, while new technology presented a massive opportunity for industry, it also comes at a risk.
Referring to cyber security threats, Mr Grimoldi said: "Wherever you have an appliance or software, you are injecting vulnerability into your systems."
He added the process of mastering data did not begin with technology, but with finding the "right people".
David Smethurst, chief technology officer at Hitachi Vantara, said the oil and gas industry downturn in 2014 had hampered investment and left the sector "well behind" in terms of figuring out how to leverage digital innovation.
Mr Smethurst added that the ongoing, global "digital transformation" was the "largest sociology project" in the world "because it involves people".
Other panel members said embracing data and digital tools could help oil and gas firms throw open their doors and attract talented specialists from other sectors.
The oil and gas sector is often criticised for being slow to adopt new devices, making it less attractive to younger generations of technology savvy workers.
Benjamin Linke, executive – subsea services and offshore director at Baker Hughes, acknowledged the perception in some parts of society that the oil and gas industry is "not cool".
But the digital revolution presents a "great opportunity" for the sector to attract new recruits and create an "exciting" mix of talent, Mr Linke told the audience at Energy Voice's event, supported by Granite PR, AVC Immedia and Power a Life.
Kevin Gallagher, digital transformation lead at Cnooc International, said his employer had enjoyed success by bringing in data scientists to supplement the skills of its petrophysics experts.
Innes Auchterlonie, managing director of Imrandd, said oil firms would be making a mistake if they rushed to bring in people from data science backgrounds without providing them with the right support.
"We need to get people working in tandem – not in isolation – with relevant data knowledge backing it up," Mr Auchterlonie said.
The audience also heard from panel moderator Stephen Ashley, digital transformation solution centre manager at the Oil and Gas Technology Centre, and David Lecore, senior compliance manager at the Oil and Gas Authority.
Recommended for you

EU aims to boost its wind industry to counter China's clean tech ambitions