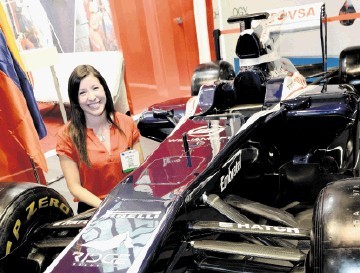 Chevron said yesterday it was still very excited about two North Sea oil fields it hopes to extract millions more barrels of oil from.
Using new techniques to increase oil recovery, the US giant aims to extend the lives of its Alba and Captain heavy-oil fields.
Steve Garrett, manager of Chevron's global technology centre in Aberdeen, told the World Heavy Oil Congress the fields contained about 1billion barrels of oil each. They have already produced some 640million barrels of oil but more could come by increasing recovery rates to 50%, he said.
Chevron has been carrying out a trial on Captain, 80 miles north east of Aberdeen, involving an enhanced oil recovery (EOR) technique using chemicals called polymers to flush out reservoirs. It is also looking at trying another form of EOR on Alba, in the central North Sea.
Mr Garrett said: "We are still very excited about the potential of these fields.
"We are looking at digital remote management to help sustain field life and also the fundamentals of asset integrity and reliability. The prize is to extend field life and improve oil recovery."
Chevron says initial recovery rates in heavy-oil fields, without any assistance from EOR techniques, can range between 5% and 20%.
Alba and Captain – 23.4% and 85% owned by Chevron respectively – were among the 10 biggest producing oil fields in the UK North Sea last year, according to the Department of Energy and Climate Change. At their peak they were producing 140,000 barrels of oil per day, said Mr Garrett.
He was speaking at Aberdeen Exhibition and Conference Centre, where the World Heavy Oil Congress continues and finishes today.
A breakfast event hosted yesterday by Aberdeen and Grampian Chamber of Commerce featured a presentation on Statoil's Mariner and Bressay heavy oil developments, which will be managed from Aberdeen.
The firm currently has 27 staff based in the Granite City but this is expected to mushroom to more than 1,000 by 2017, including 830 contractors and about 70 Norwegian expats.
Statoil's vice-president of operations for the North Sea, Johan Andreas Johansen, said the company was still looking at options for new offices in the Granite City.
Aberdeen-based oil and gas consultant Maxoil Solutions said yesterday it had appointed Karen Christie as global-development director.
Maxoil said Mrs Christie, who previously worked in regional business development for Wood Group Integrity Management, would be focused on expanding the firm's geographic presence and moving into new sectors such as shale gas and heavy oil.
She said: "Maxoil is a vibrant and energetic company, which is building excellent relationships in the oil and gas sector, and I am excited to be playing a role in expanding the company's already great reputation into the worldwide market."