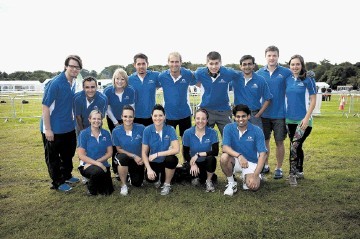 Companies gathered at Hazlehead Park in Aberdeen for the Shell Highland Games and Charity Challenge – the seventh event of the Activitymix Corporate Decathlon.
More than 1,500 people enjoyed the corporate hospitality and entertainment, including a magician, crazy golf, Olympic colouring competition and F1 simulator.
CNR International won from League 1, with Hunting and Sparrows providing some close competition, coming in second and third respectively.
In League 2, A2B were victorious after a tight battle with Logica who came in second, and Atkins who took third place.
Eight companies took part in the Mascot Race, raising nearly £3,000 for Clan. The race was won by the Bee Inspired mascot, supported by CNR International.
Other mascots were supported by Atlas, Maersk Oil, International SOS Abermed, Lloyd's Register, Bibby Offshore, BP and Wood Group.
Clan fundraising manager Susan Crighton said: "Clan are delighted to have been part of this year's Shell Highland Games. It is a fantastic event and it is great to have been involved once again. We are hugely grateful for the opportunity to raise vital funds as well as highlight the work of Clan Cancer Support."
This is the ninth year Shell have sponsored the Corporate Highland Games.
Finance manager Jonathan Gordon said: "Shell is delighted to have sponsored the Highland Games since 2006 and we believe it's the highlight of the Corporate Decathlon calendar. The event allows local and international staff of the competing companies to partake in traditional Highland game sports like tossing the caber and the tug o war. It's also a fantastic opportunity to bring together staff, their families and the local community for a fun day out."
If you would like to take part in next year's Corporate Decathlon, contact Adele Wilson on adele.wilson@activitymix.com