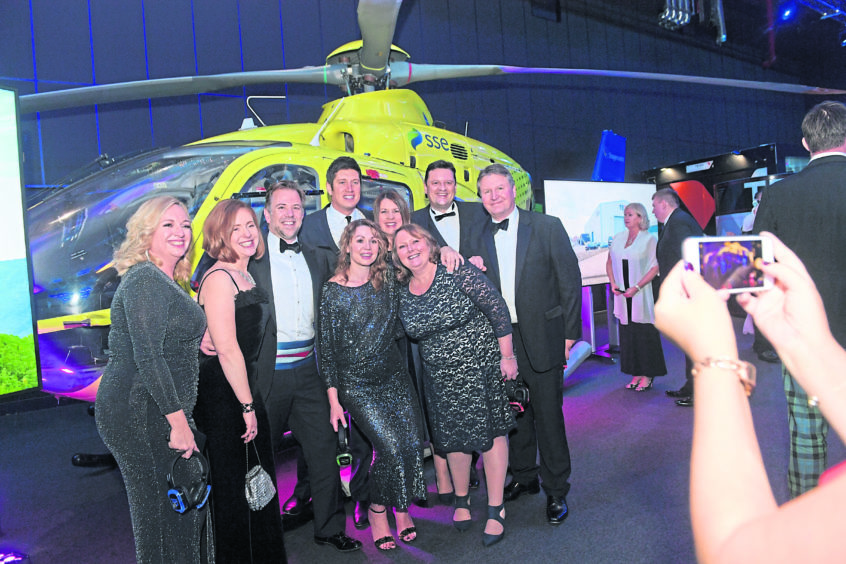 A yellow rescue helicopter took centre stage at The Press and Journal Energy Ball at the weekend.
Even 6ft 3 TV presenter, and host for the evening, Vernon Kay was dwarfed by the aircraft which was flown in by Scotland's Charity Air Ambulance (SCAA) for the special occasion.
As the event's official charity partner, money raised throughout the evening was pledged towards the organisation – and will help fund the running of a new copter from Aberdeen next year.
Aberdeen's £333 million entertainment venue, P&J Live, provided a fitting setting for the big occasion.
Much more than a prestigious Christmas event, the Press and Journal Energy Ball is a way to recognise and celebrate the hard work done by those in the sector, and also provides a superb opportunity for networking.
The night kicked off with guests in awe of the dramatic winter wonderland setting, complete with an extensive dance floor and stage.
They warmly welcomed the evening's host Mr Kay to the stage, and the arrival of 14-piece show band Club Live.
Headline sponsor of the event was engineering and technology company Texo Group, who created a silent disco module named the Texo Techno Silent Disco.
The firm's managing director, Robert Dalziel, said: "Texo has just celebrated its first year in business with some incredible contract wins and a very healthy order book across a wide variety of sectors, including renewables, nuclear and hydrocarbons.
"So, it seems entirely appropriate to be celebrating that success among such a distinguished gathering – that is the Energy Ball.
"We are extremely proud to have been the headline sponsor for this year's Energy Ball and most especially in playing our part in helping such a worthy cause as Scotland's Charity Air Ambulance."
The event was also held in association with Loganair, Stauff, Mattioli Woods, Aberdein Considine, Baker Hughes, Traveleads, Balmoral Group, MHA Henderson Loggie and Hilton Aberdeen Teca, among many others.
Enjoying their first year in supporting the ball, Samsung Electronics UK's AV Northern Channel manager (SEUK) Jerome Slater said: "What an amazing evening we had at the Energy Ball 2019.
"A combination of great people, thought-provoking conversations, amazing cuisine, and all in the name of charity. What a great success."
Charlotte Hartley, regulatory pilot at Pale Blue Dot, said: "I had a great night. It was the first time I had been to the Energy Ball. I was surprised by the diversity of companies here. Vernon Kay was hilarious and Club Live were so talented."
Tracy Clark, from ITC Hydraulic Services, said: "The Energy Ball is the best night of the year. Vernon Kay was very friendly and entertaining and I loved Club Live. It was a fantastic night. Great crowd. Great atmosphere."
Erikka Askeland, managing director of Mediacraft, added: "The venue worked so well. To accommodate all of these people was top notch.
"Vernon Kay added a lot energy to the event. He looked like someone who was enjoying his job."
Brett Jackson, founder and managing director of Granite PR, said: "It has been a fabulous night in this new venue. Over the years this event has grown into a real celebration of our city and its energy industry."
Recommended for you

GALLERY: Were you at the Power of Energy Charity Gala?