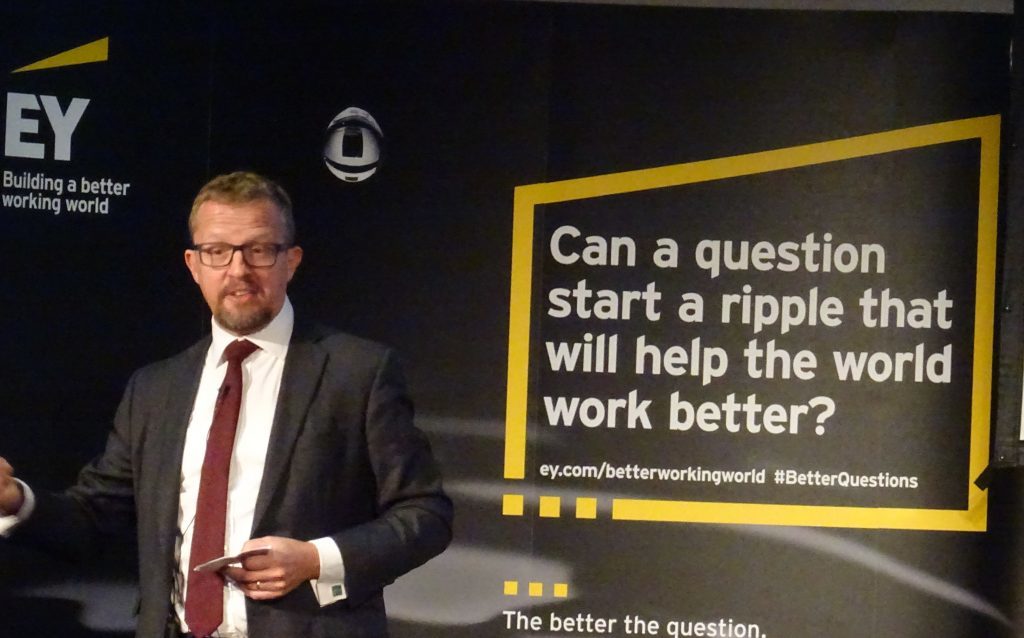 The oil and gas industry should prepare for the "fourth industrial revolution", it was claimed this morning.
The opening session of Offshore Europe was given an introduction to the emerging technologies likely to shape the future of both the upstream and downstream sectors.
Cryto-currency Bitcoin, augmented reality apps like Pokemon Go and Boston Dynamic's robotic creations playing football were all hot topics.
And Mark Hutchinson, partner with professional services firm EY, said they are all set to become integral to the offshore industry in the future – in one way or another.
He said: "The first industrial revolution was steel, the second was the age of electrification, the third is the age of information technology and the fourth is the age of digitisation.
"The cost of technology has pretty much been halving every one to two years.
"You might know someone who got a drone as a Christmas present. Seven years ago something like that might have been bought for £10,000 at a specialist shop. If you buy it now it's probably £20."
Speaking at the Aberdeen and Grampian Chamber of Commerce business breakfast, he gave a rundown of technologies that will have the biggest impact over the next five, 10, and 15 years.
Mobile
Mobile and use of 'smart devices' was the first technology put under the spotlight.
Mr Hutchinson said: "More people today have access to a mobile phone than a lavatory. It's revolutionising everything from farming in Africa to the way teenage kids interact with media and access content – whether we like it or not.
"The biggest spend in oil and gas industry over the last five years has been on mobile devices in terms of digital technology investment.
"The people coming into the industry are much more confortable with the use of devices such as mobiles and iPads rather than older technology."
Robotics
Robotics was up next, due to the huge variety of work that could be undertaken by automation of the industry.
He highlighted projects like Eelume's underwater robot 'worm' used for maintenance inspection and repair.
Mr Hutchinson said: "In many ways this is nothing new. The moment when robotics will really hit is when people can produce a robot that can stand and walk and is stable in its own right.
"Of course robotics isn't just about machines, it's about software as well.
"Robotics is here now and only getting quicker, cheaper and bigger."
Artificial intelligence
"The big tech companies have been investing heavily in data analytics, business intelligence and artificial intelligence – systems that can think for themselves," said Mr Hutchinson.
"There's a whole plethora of start-ups – and I'm sure we will see lots of exhibitors over the next few days – this is the field in which they work.
"BP are putting a lot of money into this. They invested $20million in a company called Beyond Limits which has been taking a lot of the artificial intelligence that is being developed for the International Space Station and NASA and developing that for the oil and gas industry.
"When you start combining that with drone or satellite imagery that becomes really interesting.
"The power of some of these emerging technologies and the decisions you can make on te back of the data is growing significantly all the time."
Augmented reality and virtual reality
"Augmented reality is putting a digital world onto a real world image.
"You have a whole bunch of companies investing very heavily in it, to look at sourcing technology where you can see through the walls of buildings to what might be behind it.
"This could have a profound impact on companies and industry if it hasn't already and it's also really good from a health and safety point of view in terms of training people to do things onshore from a safe location rather than having to go offshore.
Block chain
The block chain – a digital ledger of data – could become key to contracts, data processing and many other aspects of the oil and gas industry as it embraces digitisation, according to Mr Hutchinson.
He said: "What's really interesting about block chain isn't the coins or crypto currency – it's the technology that underpins it.
"Block chain, we think, is slightly more emerging than emerged but the technology underpinning it is really beginning to move into the mainstream.
"It has huge potential across the oil and gas industry. It's a hugely efficient way of processing stuff and you can do 'smart contracts'."
3D printing
Mr Hutchinson said many oil and gas firms had already adopted 3D printing but said that the potential is holds was growing at an unprecedented rate.
He said: "It's getting cheaper and cheaper and the quality and scale of what it can do is going up exponentially.
"This is a supply opportunity for your industry."
***
Collete Cohen of the Oil and Gas Technology Centre opened the session.
She agreed that harnessing emerging tech would be key to maintaining a sustainable future.
She said: "We are coming, we hope, out of a period of quite a difficult time for the industry.
"I think one of the interesting parts about coming out of this difficult time, and what's different from previous downturns, is that we are not really coming out of it on the back of a growth in oil price.
"We are coming out because we have learned to live with oil price and how to be more efficient and optimise our costs.
"But we are also seeing that there is another step to go.
"We can't really just survive. We ultimately need to thrive and be able to reinvest in the North Sea."