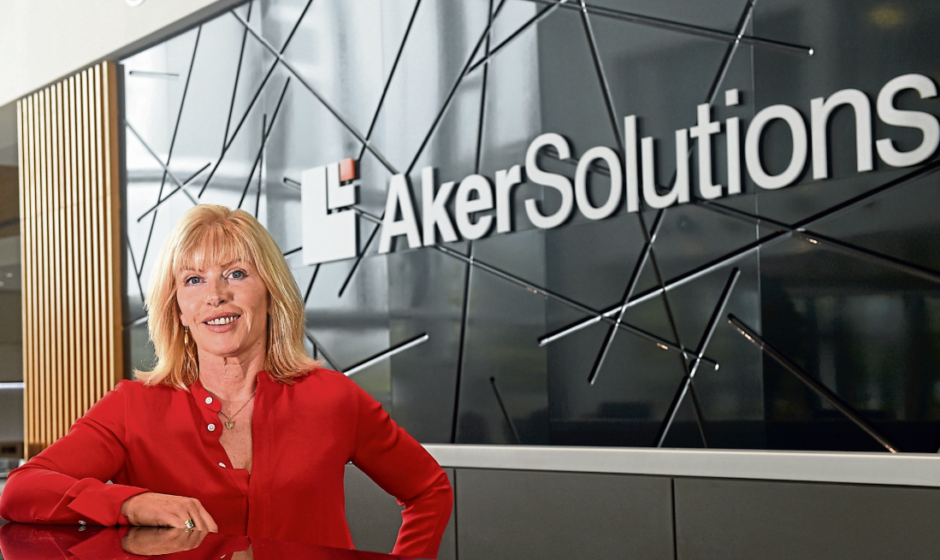 The concerns surrounding a low carbon energy transition fit "perfectly" with the agenda Aker Solutions has right now, according to the firm's UK boss of North Sea and European operations.
Sian Lloyd Rees, Aker Solutions UK head and senior vice-president of Europe and Africa, described the skills of oil and gas and renewable energy as "easily transferable" and something her firm has "had a big focus on over a number of years".
Engineering firm Aker Solutions has eagerly waded into the low carbon and renewable energy marketplace over the last few years, most notably in buying up equity in San Francisco-headquartered floating wind developer Principle Power.
It's also inked deals to develop subsea gas compression projects in Equinor's Asgard field and Chevron's Jansz-Io field in Western Australia.
Ms Lloyd Rees said: "What I like about offshore floating wind in particular is the proposition. It's about design engineering and subsea solutions, so it fits perfectly with the focus we have today.
"In terms of technology, we've got equity in Principle Power who have technologies for offshore floating wind projects – the Kincardine Floating Wind Farm off Aberdeen uses Principle Power's technology.
"Currently too, we're involved in the world's largest offshore wind commercial field in California."
Yet, Ms Lloyd Rees revealed she's also "excited" about a new carbon capture project in The Netherlands, where Aker Solutions is capturing the carbon dioxide from flue gas emissions.
She said: "We capture the CO2 and then we recover it and it's transported through liquefaction and injected into greenhouses where it provides heat and nutrients for the flowers and vegetables to grow."
Aker Solutions is also looking at ways to decarbonise offshore oil and gas assets, particularly in the North Sea.
Ms Lloyd Rees said: "We have that capability and expertise in different parts of the world and we apply them to projects anywhere.
"We look at a lot of gas-to-wire and at new types of field development.
"Here in the North Sea we're involved in a lot of the decarbonisation in terms of existing oil and gas assets, so process optimisation and different ways of flaring and power delivery."
The Oslo-headquartered company has a long history in the North Sea and is heavily involved in the training and preparation of north-east staff to work both in oil and gas and the emerging offshore wind and floating offshore wind markets.
Ms Lloyd Rees sees the difference between the two markets, but claims that there are a lot of similarities, in terms of the transferable skill-sets that Aker Solutions is focusing on.
She said: "A lot of the skills we use in oil and gas have got to do with offshore, floating and fixed bottom structures, including subsea and developing new technologies.
"The skills are immediately transferable. For us, we've got a big focus in oil and gas and we retain that, but we have a focus on lower carbon solutions as well.
"Like many companies of any particular size, we have formal training programmes in place across the company both from a technical skills and expertise standpoint to ensure we're current and developing all the time.
"But we also have a broad range of solutions and train people in different parts of the industry.
"New technologies and new parts of the business is simply another aspect to the training."
Ms Lloyd Rees will be a member of the panel as part of the energy transition hub at this year's Offshore Europe conference in Aberdeen.
She's keen to discuss the changing energy marketplace and Aker Solutions' work to date.
She said: "It's notable in that for the first year a particular area has been created in which to house the discussion and the sharing of information of what companies are doing.
"Purely by setting it up, it then shines a spotlight on this particular part of our economy and the balancing act between oil and gas and renewable energy – big operators and supply chain firms are taking notice."
Does Ms Lloyd Rees have a preference as to which marketplace Aker Solutions conquers?
She said: "Our focus has always been 'energy' so we haven't seen it as a distinction between two different parts of the energy sector.
"Developing new technologies comes with a cost associated and we're here to serve our customers.
"Wherever that customer might be in the oil and gas or renewables sector we will work with them to look at what is the most applicable technology.
"It's nothing new for us, we've been there straddling the two arenas for a number of years."
Recommended for you

Growth spurt as Havfram targets renewables market