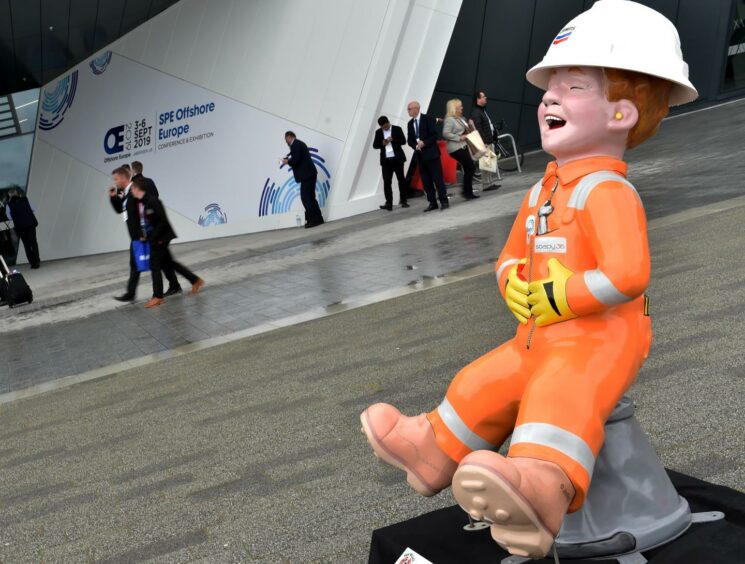 Aberdeen business and political leaders underlined their support for the city's oil and gas industry as the Offshore Europe conference officially kicked off.
Russell Borthwick, chief executive of the region's chamber of commerce, used his speech at the opening business breakfast to warn of the perils of rapidly shutting down the sector.
Meanwhile the Lord Provost of Aberdeen, David Cameron, said those who want to switch from oil and gas to renewables at the drop of a hat is "living in cloud cuckoo land".
SPE Offshore Europe 2023 makes its triumphant return to the Granite City today, with tens of thousands of people due to visit the P&J Live over the next few days.
It is the first time the major oil and gas showcase has been held in-person since 2019, with previous iterations forced online or cancelled due to Covid-19.
Launching the event at an Aberdeen and Grampian Chamber of Commerce business breakfast, Mr Borthwick said: "It has been four years and wow, what a four years – what crazy time it has been. Nothing compares to the value and the experience of being at a physical event, bursting with energy, business opportunities and actual people."
He added: "The conference theme – accelerating the transition to a better energy future, with specific focus on energy security, transition, future talent and innovative technology – uniquely captures what's in front of us."
Since the last Offshore Europe in 2019, oil and gas has been in and out of vogue numerous times.
In the run up to the COP26 climate event in 2021, the sector became a whipping boy for politicians and NGOs, keen to accelerate the energy transition.
But Russia's invasion of Ukraine in early 2022, and the subsequent surge in household bills, gave the North Sea fresh impetus, and but a number of projects back on the table.
A large degree of opposition to ongoing oil and gas production remains though amid concerns about the impacts of climate change and the sectors hand in that.
There are calls for the government to block new North Sea developments, though industry has warned that risks the ambition for a just transition.
Delivering his civic welcome to Offshore Europe delegates, lord provost David Cameron said: "Aberdeen and the north-east of Scotland has already established itself as a region leading on a just energy transition. It has to be a transition and it has to be just.
"Anybody who thinks you can switch from fossil fuels to renewables in an instant is living in cloud cuckoo land. There has to be a transition – that must happen."
Recommended for you

Anas Sarwar challenged to face oil and gas industry at Offshore Europe