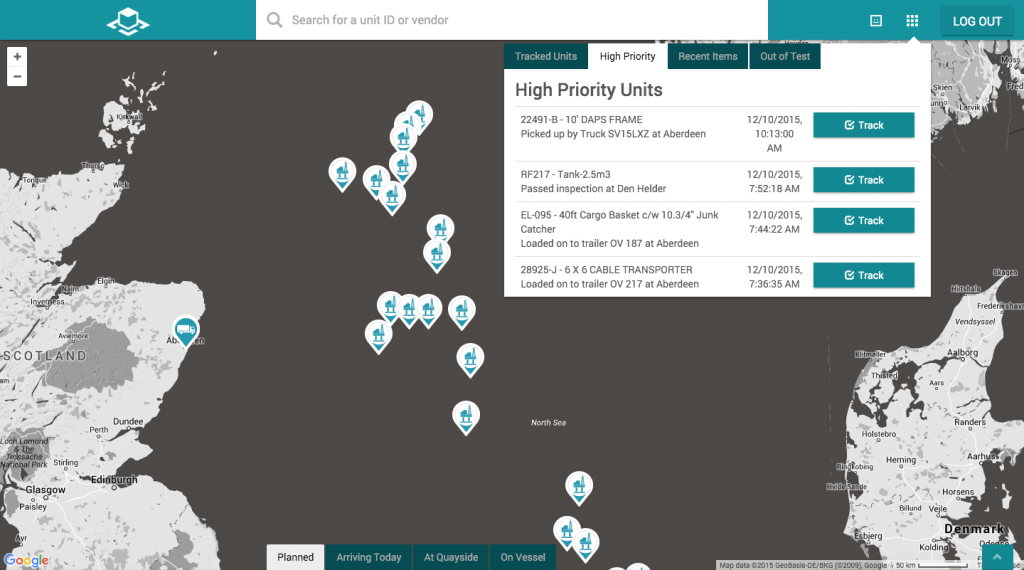 Steven Calder is standing in a Spanish promenade when he taps in 'best tapas bars' into his iPhone. Seconds later he's staring at a selection of the most highly lauded pit stops in a five mile radius.
The day I meet him he declares: "I'm building the Google for the supply chain".
The managing director of Streamba wants the ease and rapid response of his holiday search to be replicated in the energy industry.
Armed with a computer and 4G he types 'laptop' into his self-built system, VOR.
A dozen laptops currently floating around the North Sea pop-up. A few clicks later and he's narrowed it to one and is able to recall who it belongs to, what cargo ship it's on, where it's heading, what course it took and exactly every other item it shares the cargo hold with.
In Norse mythology, VOR is the goddess of wisdom. Today's its Steven's brainchild, or a massively scalable big-data technology that delivers real-time asset tracking and analytics.
"There's no way I would get rid of my iPhone and go back to how it was before," he said.
"We're always expecting more and more and we want it every day and it should be the same for the supply chain now.
"It's 2016 they should expect it now. It doesn't make sense that we would do it any other way."
"Any other way" includes spreadsheets and splintered information. As it stands the industry has no single source of data for the industry to make decisions from, according to Calder.
Like Google, VOR is gathering data 24 hours a day on shipments and movements including origin, destination, size, weight, content and current location. It uses algorithms to suggest where an underutilised asset could work, making suggestions on which vessels could sell deck space on a vessel to reduce operating costs.
It does this without the need for RFID, GPS or barcoding technology. It's the latest tech to be showcased at this year's Offshore Technology Centre (OTC).
The idea was sparked three years ago when oil was on a steady high. Calder later visited Google's headquarters to lay the foundations for the technology.
Calder's team caught attention and later funding of Peterson, which is helping the firm bring the tech to market.
When the oil price crashed, Calder saw it as two-fold opportunity. First, to help his Glasgow-based firm finally break through the iron veil of the north-east. Second, to capitalise on the change of attitude toward new tech and early adaptation.
"If oil was where it was one we started and stayed around $80 a barrel it would have been difficult to get in and get the response we are," he said.
He added: "VOR is all about can we do this in real time? It's able to process all the information, which is entered by the supply chain, and the real power of it is it tells the story with that data.
"We wanted to make something that is built in Scotland and with the oil price down we wanted to assist in helping Aberdeen become the centre for technology."
Despite investing six figures in VOR, self-confessed data-geek, Calder, doesn't have a clear plan on how he will commercialise it. He envisions a system where companies have access to it as easily as they do the internet and "like Google the numbers will figure themselves out".
Until then it's dutifully scouring for triggers, which can take the form of unique asset numbers, work orders, purchase orders, rig names, vessel movements or transport plans. VOR then reads, analyses and organises the data and renders the information to show timelines and locations of all assets.
Calder adds: "Yeah, it's pretty cool."
Recommended for you

Shell seeks to reduce and recycle waste in Australia