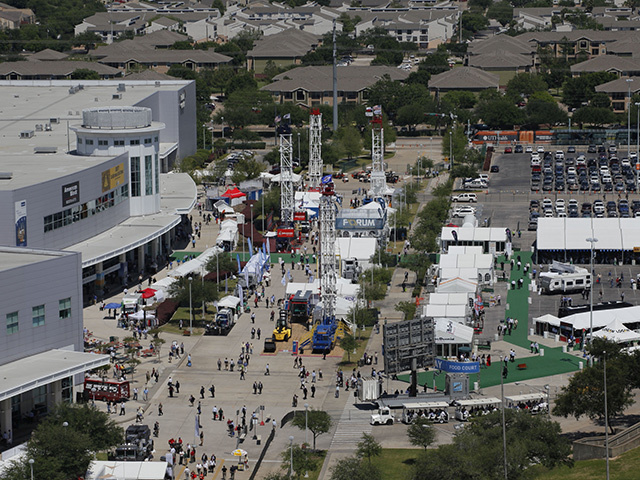 Offshore Technology Conference (OTC) organisers have pulled out all the stops for this year's flagship event, which got under way in Houston today.
OTC, which launched in 1969 and is the largest global event for the oil and gas sector, will welcome more than 70,000 delegates and 2,000-plus exhibitors.
The board has put on a "very special programme", according to chairman Wafik Beydoun.
Some of the oil and gas industry's biggest names will speak at the opening ceremony at NRG Stadium, including
Total chief executive Patrick Pouyanne, ConocoPhillips CEO Ryan Lance, NOV CEO Clay Williams and Halliburton CEO Jeff Miller.
Shell project and technology director Harry Brekelmans and Petrobras chief exploration and production officer Solange da Silva Guedes will also deliver speeches.
Also on the opening day, a lunch will be held to commemorate the accomplishments of past OTC board members.
Mr Beydoun will host a powerhouse panel of executives who will discuss the energy transition. Panellists include Carlos Ghosn, chief executive of Renault-Nissan-Mitsubishi, Statoil CEO Eldar Saetre, and Remi Eriksen, CEO of DNV GL. Former US energy secretary Ernest Moniz will moderate the session.
Day one will be rounded off in style with the Party on the Parkway event, which has been billed as an evening of fun, music and dancing.
Asked about OTC's importance to industry, Mr Beydoun said: "OTC started in 1969. Right from the start, the oil industry recognised that if it was going to go offshore, cross-sector cooperation would be needed.
"The founders knew that in 1969. They realised oil companies could not only work with drillers, they had to work with everyone. OTC was created with that in mind.
"This has allowed industry to move to more hostile environments, solving technical issues with an integrated approach.
"Fifty years later, OTC is still the main platform for issues relating to offshore technology."
Mr Beydoun, who is also Total's country chairman for Kuwait, first joined the board of OTC in 2010.
He said he loved the camaraderie between board members, all of whom pull in the same direction to make OTC better.
Mr Beydoun also said the oil and gas industry was faring better this year.
"If we look at metrics, the oil price is higher, so the situation is better," he said.
"But companies are wary. They are not just going to start investing. They remain very cautious.
"This downturn has been the hardest. It has lasted longest and the effects were not immediate.
"We are still learning lessons. Industry realises it needs to be more agile because it cannot control the market."
He said the presence of a strong renewable energy sector had added a new dynamic to the current downturn, and noted the trend of oil and gas companies repositioning themselves as broader energy firms.
Mr Beydoun said: "A component we did not have in previous cycles is renewables, which has become stronger and more important.
"Electric vehicles have also emerged and we are considering how they will impact oil and gas. That's why we have an energy transition panel on April 30 with the CEO of Renault-Nissan-Mitsubishi. There is a lot of commonality between the automotive and energy industries."
Mr Beydoun also said Houston was the perfect host for OTC.
He said: "Houston is known globally to be the city where technology was born, and OTC is proud to call Houston our home.
"Thanks to our industry partners and the city, there are very few events in any industry that mirror OTC's legacy and contributions."
Recommended for you

Offshore Europe looks to accelerate transition at half-century event