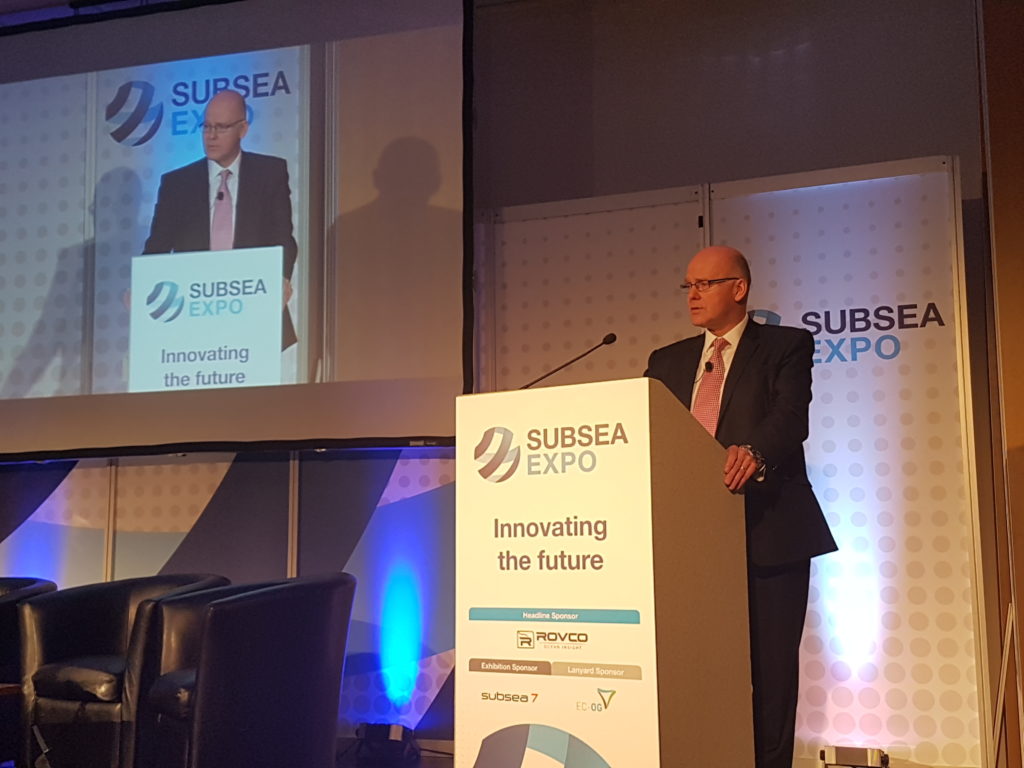 The UK's £7.5 billion subsea sector needs to shed its "master and servant mindset", an industry veteran said yesterday.
Firms have been guilty of "poor behaviour", Neil Gordon, chief executive of trade body Subsea UK, added.
He hosted the plenary session on day one of the 2019 Subsea Expo at the AECC.
The Subsea UK chief executive was joined by representatives of the Oil and Gas Technology Centre (OGTC), investment bank Simmons Energy, the Oil and Gas Authority, the Department for International Trade and Tekmar.
The panel discussed challenges facing the industry, including its declining attractiveness to investors, Brexit, the energy transition and nurturing the next generation of energy sector workers.
Mr Gordon stressed that proper engagement would lead to the right solutions being found, instead of customers dictating what should be done.
He said: "Our sector is still reporting cases of pretty poor behaviour across its spectrum right across the supply chain, particularly in relation to commercials, whether that be payment terms, liabilities or contractual wrangling.
"Less master and servant, confrontational mindsets should be replaced with more open, constructive conversations looking at common objectives, value added and risk and reward, with an appreciation that margins must increase to allow investment in resources and assets.
"It's only within this type of environment that our supply chain can relentlessly pursue smart solutions and efficiencies.
"But it is not only the customers who have to change, the supply chain overall must take a long-hard look at ourselves to reinvent ourselves as pioneering innovators.
"In the difficult market conditions we've been facing we've all been under scrutiny and have been forced to review the value that we deliver, whether that's in our service offering or technology."
Mr Gordon added that, while technological innovation was crucial, so too was changing the commercial behaviours of the industry.
Colette Cohen, chief executive of the OGTC, said the subsea industry was working against itself and needs to be more focused on collaborating.
She said: "You're a very competitive industry, and compared with other elements of the business that we've worked with, you're very hard to get to work with each other or to share what's going on.
"If you don't change that behaviour, you're not going to succeed fast enough.
"We need to start working together on what your vision. We have Vision 2035, but what's your vision? What's your vision as an industry of what you'll look like and who you're going to be in five years, let along in 2035?
"Right now you're competing so much with each other, you're not working out that you're going to be bypassed."
They were joined on the panel by Mike Beveridge, managing director of Simmons Energy, who said the subsea sector has "fallen down the pecking order" of investors, which can now only be improved through performance.