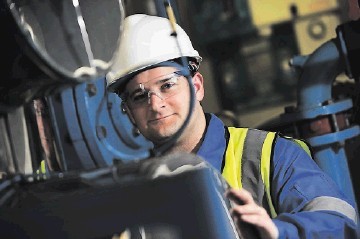 From travelling by hoverboard to colonising Mars – predicting how the future will go is a notoriously difficult affair that is influenced by any number of factors.
For younger people, having to make a decision at a relatively early age on their career path, it may not quite involve looking into a crystal ball but it is still a challenge to decide which journey to embark on without understanding how to get there.
Inside Industry, which supports students all over the country, was set up with this in mind as an online tool providing a total overview of jobs available in the energy industry and, crucially, the different entry routes into these posts.
The only tool of its kind, Inside Industry is completely focused on providing in-depth information and advice to secondary school, college and university students on the energy sector.
"Our aim is to provide first class careers information," said Director at Inside Industry Darren Peattie. "Students have to understand industry sectors, what good solid career paths are available and how they can fit in."
With full backing from bodies such as Subsea UK and the Society of Petroleum Engineers (SPE), Inside Industry has successfully brought the industry together to work towards a long-term solution for attracting young people and sustaining a pipeline of new talent.
This partnership approach has seen Inside Industry support schools across the country with industry-based work placements, career workshops as well as taking technology into schools to allow students to get hands-on with what the industry has to offer.
Inside Industry also provides Teacher Training workshops across the regions to ensure teachers feel confident in assisting students with careers information.
Essentially, Inside Industry is taking the energy career message across the country and ensuring students from all locations are aware of the career opportunities within the sector.
The organisation is also working with recruitment firm Carlton Resource Solutions to provide advice on writing CVs, approaching job interviews and explaining psychometric testing.
In addition, Inside Industry has joined with skills development organisation Atlas Knowledge to give students the opportunity to boost their credentials and add depth to any university application forms by studying for modules and certifications in related subjects.
"It is an exciting time," added Darren. "The Inside Industry portal has been used by 320,000 secondary school students and when you add in those at college or university you can see how valuable it is proving to be. There is a fantastic industry out there that is accessible – we are just trying to help people find their way."
Speaking to its target audience in a language they understand is key to Inside Industry's success and the web based system is a major part of this. As technology evolves, so will the products being offered.
Darren said: "We are now investigating a new virtual learning platform with academia, along with Subsea UK and SPE, where users have an "avatar" to enter the virtual learning world and explore a number of on and offshore environments from drilling rigs, production platforms to what happens under the water and on the seabed."
It may not predict a young person's future but Inside Industry can certainly help to shape it.
Recommended for you

Oil's wild ride is driven by a disruptive band of bot traders