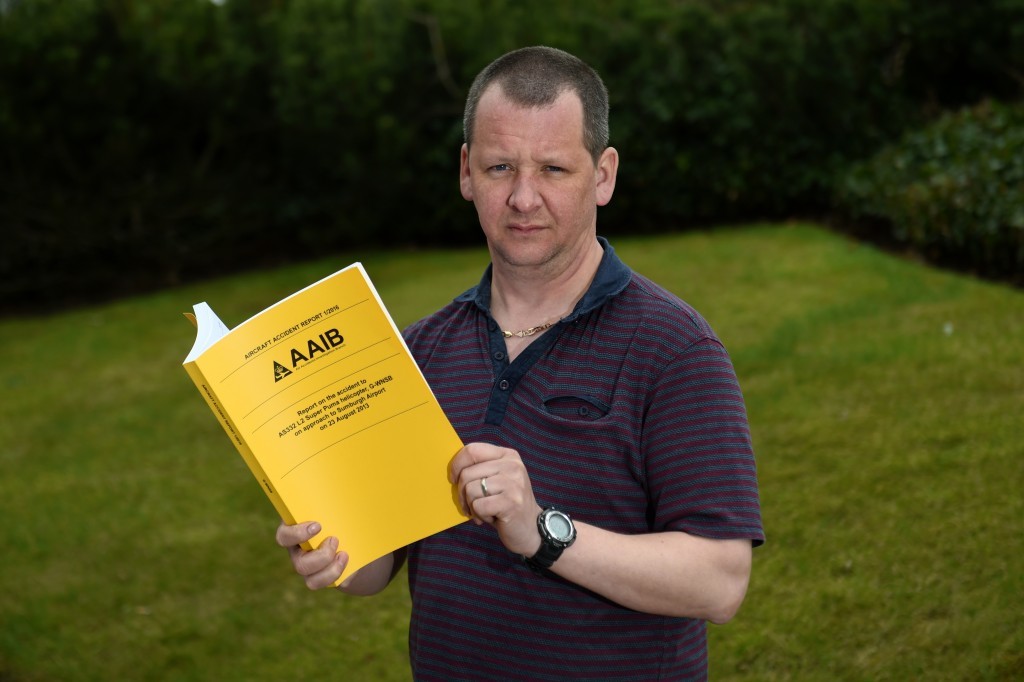 The wife of an offshore worker has spoken of the moment she had a "gut feeling" her husband had been involved in a North Sea helicopter crash.
Gillian Tosh said she knew her husband Martin, 38, had been involved in the August 2013 incident which claimed the lives of four workers when the news initially broke on local radio.
The mum-of-two spoke the day after she attended a private briefing by the Air Accident Investigations Branch (AAIB) into their final findings alongside her partner and other survivors.
Four people were killed on August 23rd when a Super Puma helicopter carrying 16 passengers and two crew crashed in the sea on its approach to land at Sumburgh Airport.
The report, published yesterday, detailed a fatal 30 seconds lapse when both pilots failed to notice the helicopter's descending airspeed until it was in a "critically low energy state".
Ms Tosh said: "I think things had really started before I even got the phone call, I had heard stuff on the radio about a helicopter crash and then I had actually phoned CHC and at that time they didn't actually realise themselves there had been that one that had gone down.
"But obviously it was coming up to the time I was supposed to pick Martin up, and that was the last one that was due in that night.
" I had realised before people even started phoning.
"I had a gut feeling because I already heard it on the radio and it was the same timing of Martin coming home.
"I was picking him up and heard nothing and when I tried his phone I wasn't getting anything."
Her husband yesterday revealed he felt "no anger" after it was found pilot error was most likely responsible for the fatal incident.
Echoing her husband's sentiment, Ms Tosh said she couldn't describe the cause of the crash as pilot error.
She claimed there had not been "sufficient training" to help support pilots.
"To be honest, I can't really say its pilot error; I think it's more from the point of view that the training is not sufficient that the pilots are actually getting.
"It seems to be that they're going from one helicopter to another without understanding the instruments. Or they're finding it difficult with the design of the instruments, they're not easy to follow.
"They're trying to take in so much information at the same time," she added.
Ms Tosh said the two years since the accident happened had been "really stressful" for her husband and two children, a girl aged 10 and boy, aged six.
She said: "Martin hasn't been very focused on what's going on around him. He's so focused on the accident and what had happened. He's just been struggling to take everything in.
"He's really been through a lot and had a lot of depression and anxiety. In turn my own health has suffered trying to keep going with everything with the kids as well.
"I think this report opens another door in the fact that the operators, the manufacturers need to take more responsibility and do a lot more training and get some operating instructions which are across a standard rather than coming from different angles. They've not got a standard operating manual. "
Martin Tosh, who had worked in the oil and gas industry for eight years prior to the incident, said he had been hoping he was wrong that pilot error had been the likely cause of the crash.
He described the days since the incident as "harder and harder" as he battles to come to terms with what happened.
Mr Tosh said: "Finding out the true answers instead of the hearsay, it's a bonus, but there's still a lot of things to think about. Once I read the full report and digest it there will be a lot of other questions I'll want to ask.
"I was hoping it was the helicopter itself, I was hoping I was wrong that it was pilot error. It's been difficult, every day has been like a fight. As time goes on it's getting harder and harder.
"I've still got pains in my back, when I get stressed I get pains from my spine to the bottom of my back.
"My concentration goes, my mood swings go. I've got Post Traumatic Stress; I'm still on tablets, so it's pretty
difficult. It's difficult to get through every day.
"My back and my neck received severe whip lash. It's more my neck and shoulders that are in a lot of pain now and it's still the same."
He said he had somehow found the strength to pull himself from the wreckage of the helicopter and to the water's surface that night.
The former offshore mechanic said: "I remember falling into the sea, fighting for my life and then finding somehow the strength to pull myself out of the water. Once I got my first gasp of air it was the best feeling ever to be honest."
Keith Conradi, the AAIB's chief inspector of air accidents, said his thoughts were with the families and victims of the 2013 crash following the publishing of the report at what would be a "difficult time".
He said: "The final report follows an in-depth and careful investigation of the causal and contributory factors.
"This has led us to make a number of safety recommendations concerning improvement to operational procedures, training, offshore helicopter design requirements and the use of technology to prevent similar accidents in the future."
Recommended for you

Next generation of oil workers at heart of transition