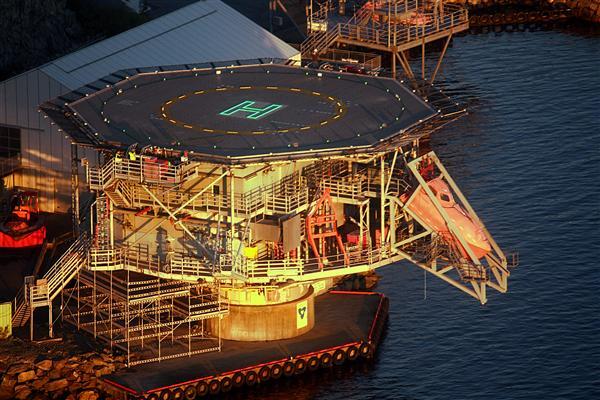 Pilots are flying into a "black hole" when landing on North Sea platforms at night.
The video, shows a helicopter landing on an offshore platform that it is brightly lit – except that the helicopter landing deck is not.
A change in Civil Aviation Authority CAP437 regulations means that by March 2018 all platform helidecks must have an illuminated circle and "H" on the helideck, otherwise the platform will not be permitted to conduct night-time operations.
John Maclean, managing director at Katoni Engineering, is working with Norwegian company Tranberg to produce and install systems for operators. He became involved in the after speaking to a pilot friend.
Maclean said: "He described flying at night like relying on the cats eyes on a country road when all of a sudden they come to an end."
"You can see that the pilot has no idea if the deck is clear. He is effectively flying blind. He is relying only on his QFE [flight instrument] readings prior to landing. I'm glad it's not me with that responsibility on my shoulders."
Tranberg is one of a number of companies to have developed lighting systems for offshore helidecks.
Its LED light elements are extremely thin for over–the-deck surface mounting and resistant to harsh environment and helicopter loads.
Maclean said operators and rig owners are not rushing to comply with the new CAP437 regulation.
The topic was recently discussed at the Topsides 2016 conference held in Aberdeen.
Maclean said: "Nine out of 10 companies quote safety as a key value, but I was having a discussion with an electrical TA (technical authority), who was speaking with senior management in the hope of improving helideck operations.
"The management response was: 'What's the point', 'We'll only do it if we have to', or 'It's a waste of time', 'We have until 2018' or 'It adds no value'.
"By March 2018 there will be no night time flying allowed unless you have the illuminated 'H' and circle. The industry has to decide whether it's pro-active or reactive to safety."
Tranberg chief executive Thomas Linkenheil, said: "The system is not increasing production or efficiency. So it's always a tricky thing to sell but we have designed the system to reduce the maintenance costs to a minimum."
Les Linklater, executive director of Step Change In Safety: "Five or six years ago, we didn't have a fit-for-purpose helideck lighting circle or H, now we have three or four different systems. We have a deadline coming but there's no requirement to comply at the moment. The deadline is March 2018. We're in a process of change."
"A large number of operators have plans in place and are working on it. BP and Centrica have done some tests. No-one is not compliant, but there's a lot of work to be done over the next two years. It is an important improvement and it does make a difference."
But what happens if there's an incident within the next two years and everyone knew about it?
Maclean said, "It's been in the making for the past five years. The industry was all for it when the oil price was high, but as budgets are squeezed, they're starting to ask the question, 'Do we really need it yet?'
"The pilots are asking for this. The video is the best example of what a pilot sees on their approach, and that's on a clear night."
A BALPA spokesperson said: "The British Airline Pilots' Association welcomes the initiative by the CAA to improve lighting on helidecks, as well as all the other steps being taken to improve offshore helicopter safety.
"BALPA has been consulted and has expressed a view on the order in which the lighting should be fitted, giving NUI's (Normally Unmanned Installations) priority in the first instance."