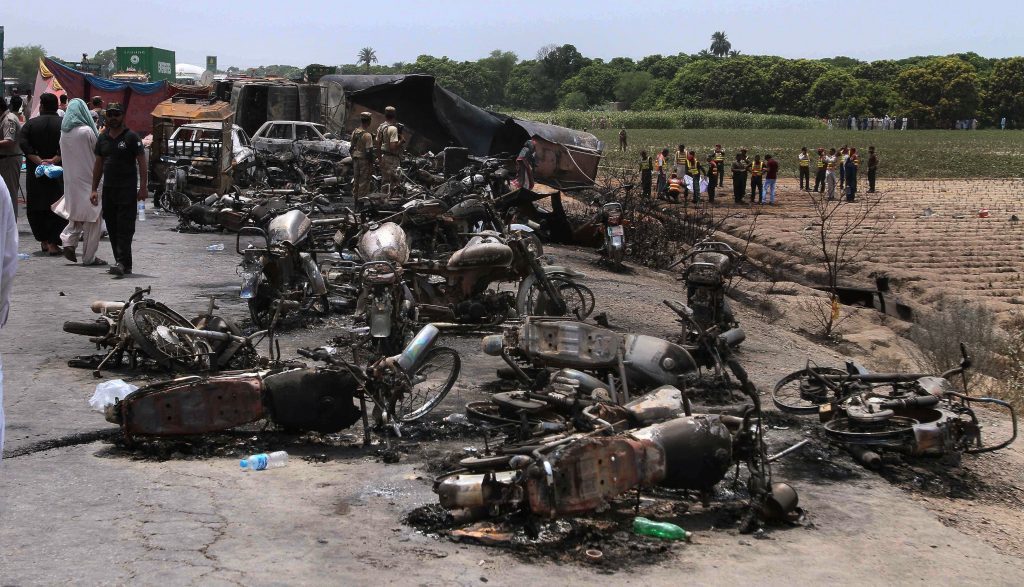 A subsidiary of oil giant Shell has agreed to pay a $2.4million fine in compensation after a tanker exploded killing more than 200 people.
Shell Pakistan Limited said it will pay the fine imposed by the Oil and Gas Regulatory Authority (OGRA) to comply with the regulator's directive.
However, the firm said it was "reserving the right to contest the fine".
In a statement, Shell Pakistan added: "The matter is under investigation, and we will decide on the appropriate course of action once more information is known and investigations have concluded.
"While Shell Pakistan Limited does not accept liability, we clearly recognise that this was a tragedy that has deeply affected the community as the holy month of Ramzan ended.
"Therefore, as an extension of our early and ongoing humanitarian efforts to secure medical aid for the injured and provide food and other relief to the impacted families, Shell Pakistan Limited will make the payment requested by OGRA, and is discussing with OGRA the appropriate means by which this financial assistance can appropriately reach the injured and the families who have lost their loved ones."
The blast on June 25 was one of the worst accidents in Pakistan's history.
The tanker was involved in an accident and ended up rolling over, spilling fuel. At the time it was carrying around 50,000 litre of Petrol.
Meanwhile the fuel ignited when villagers rushed to the scene to collect the spilled oil, ignoring warnings from police.
A fireball then engulfed the area.
The regulator, the Oil and Gas Regulatory Authority (OGRA), held Shell Pakistan responsible for the accident in which 217 people died and 61 were injured.