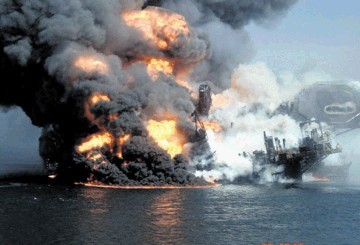 The European Union announced plans last night to seize regulatory control of the oil and gas industry – and it wants operators to put up more than £100million a year to pay for it.
Energy Commissioner Gunther Oettinger said the likelihood of a major offshore accident remained "unacceptably high" after BP's Gulf of Mexico disaster last year – and a new safety regime was needed.
Under draft plans revealed in Brussels yesterday, the EU would set the rules governing safety in the North Sea and how those rules were met.
They include proposals to make companies prepare detailed major-hazard reports outlining how they would tackle emergencies – before they are given permission to drill. Information on all spills would be made available to the public, and licensing laws would be tightened to ensure firms have the technical and financial capability to explore.
Most of the legislation – such as verification schemes and strict inspections – are based on what firms already do in UK waters.
Environmental groups and unions welcomed the news last night – but Oil and Gas UK said the proposals would undermine safety.
The industry body fears the EU could change the rules further, once it has control of regulation, with little consultation with the industry.
Chief executive Malcolm Webb said: "Oil and Gas UK is opposed to blanket EU regulation of this country's offshore oil and gas industry, which operates under a fully fit-for-purpose and robust regulatory regime. Relinquishing regulatory control to the EU, which has no established competence in this matter and where only three out of the 27 member states have an offshore oil and gas industry of real scale, risks undermining safety and environmental performance here in the UK.
"The EU could take other action, for example through a directive as opposed to a regulation, to bring member states outside the North Sea up to the high standards achieved in this area, but blanket regulation of the type we understand is now being proposed will not, in our opinion, even achieve that end. Instead, it will serve to confuse and complicate."
The EU said ageing infrastructure, exploration in deep waters west of Shetland and inconsistencies in emergency planning between member states justified intervention.
Commissioner Mr Oettinger said: "Today, most oil and gas in Europe is produced offshore, often in harsh geographical and geological conditions. Given our growing energy demand, we will need all the oil and gas from beneath our seas. But we need to prevent accidents like Deepwater Horizon in the Gulf of Mexico from happening. Securing best industry practices in all our offshore operations is an indisputable must. Today's proposal is a crucial step forward towards safer offshore activities."
The Press and Journal understands the UK Government would not be given a chance to block the plans at the European Council next year. Last night, Westminster's Department for Energy and Climate Change, which regulates the North Sea industry – said it was worried. A spokesman said: "The UK has a robust, proven, national regime with decades of experience in regulating the offshore industry.
"We look for continuous improvement within our regime and would be very concerned if it was weakened or in any way undermined."
However, union leader Jake Molloy, of the RMT in Aberdeen, welcomed the move. "It will bring another tier of scrutiny and that can only be a good thing," he said. "From a workforce point of view, more people watching and auditing should be welcomed."
SNP MEP Alyn Smith said: "I see little in these proposals to dislike, but we still need to be wary this does not grow legs. We all remember the disproportionate call from the EU energy commissioner earlier this year for a moratorium on drilling."
Richard Nixon, director of environmental group WWF Scotland, said the new rules would make companies "focus their minds" more when considering health and safety.
The plans will go before the European Parliament next year before being sent to the European Council – which is made up of heads of government including Prime Minister David Cameron and French President Nicolas Sarkozy – for final approval. If they are rubber-stamped by the majority, they will come into force in 2013. Operators will be asked to pay the EU £114million a year to fund the changes.