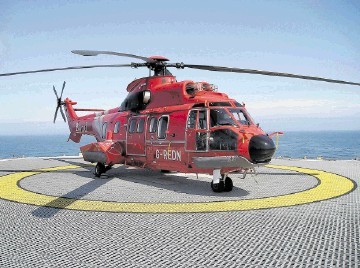 FRESH safety fears have been raised over the helicopters used to fly hundreds of oil and gas workers offshore every day.
All Super Puma aircraft – including the model involved in the crash that claimed the lives of 16 men in 2009 – are at the centre of a new continent-wide alert.
The European Aviation Safety Agency (Easa) has issued an emergency directive after the brakes failed on one helicopter when it landed on an oil rig.
Last night, the North Sea's three biggest operators – CHC, Bond and Bristow – said they had complied with the new safety directive.
The Super Pumas, which have been grounded previously over safety fears, fly out of Aberdeen Airport and Scatsta in Shetland, and are the workhorse of the offshore industry.
It is understood the "serious incident" that led to the scare happened in the Norwegian sector of the North Sea.
Easa said the helicopter suffered a hydraulic failure while landing.
When the aircraft touched down, it rolled towards the edge of the helideck, with the crew unaware that hydraulic fluid was leaking out and affecting the brakes.
The safety agency's directive says: "This condition, if not detected and correctly assessed by the flight crew, could result in reduced control of the helicopter after landing."
Two models of Super Puma – the AS332L and the EC225 – are used to ferry offshore workers to North Sea installations.
Easa chiefs have now ordered changes to the operating instructions of both to try to prevent a repeat of the incident.
CHC operates seven AS332Ls and three EC225s in the North Sea.
A company spokes-woman said last night: "CHC Helicopters complies with all airworthiness guidelines. Safety is always our priority and we welcome any measures which further enhance the reliability of the aircraft."
Bond said it had complied with the directive. It has six AS332L helicopters, and five EC225s.
Bristow – which has eight EC225s and three AS332Ls – said it complied with the directive on Thursday.
In February 2009, 16 passengers and two pilots survived when a Bond Super Puma EC225 crashed into the sea 125 miles from Aberdeen.
Two months later, two pilots and 14 oil workers died after a "catastrophic" gearbox failure on Bond flight 85N. The helicopter – an AS332L – plunged into the sea 14 miles off Peterhead.
The accident led to dozens of helicopters being grounded for safety checks.
Despite its problems, a leading union official said workers still had confidence in the aircraft.
Jake Molloy, of the RMT union, said: "All of the recommendations made in 2009 have been put in place and no real issues have been raised by offshore workers.
"But if there has been an incident, then it needs to be addressed."