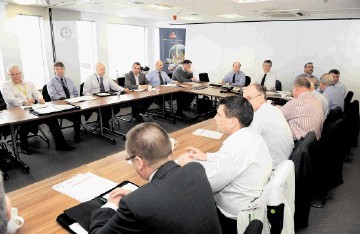 Offshore union officials last night described an emergency meeting held to discuss issues raised by last week's North Sea ditching as "frustrating".
Jake Molloy, regional organiser for the RMT union, said it was confusing that not all operators of Eurocopter's EC225 Super Puma had grounded their aircraft.
He made the comments after senior staff from offshore helicopter operators, oil and gas firms and trade unions met at industry body Oil and Gas UK's headquarters in Aberdeen to identify lessons to be learned from Thursday's incident.
Last night, Bond's entire Aberdeen fleet remained grounded. Yesterday, the operator extended its suspension of Eurocopter Super Puma helicopters from the EC225 model to also include the AS332L2.
The company says it is waiting for further information from Eurocopter.
But other operators, including Bristow and CHC, continue to operate the aircraft, following assurance from Eurocopter that they are airworthy.
Last night, Mr Molloy said it was important that clearer information came from the manufacturer as soon as possible.
"The meeting today was frustrating – there are lots of mixed messages, with some operators flying and some not. That's something we don't want," he said.
"We're looking for transparency and clarity, and regrettably we didn't get that today. The sooner we can get answers to our questions the better."
He added that a number of workers had been put off flying offshore because of the ditching. "As regards flying, we have had a number of calls from members saying that's it for them, they won't be going back and that tends to happen after any major helicopter incident," he said.
Yesterday, the Institution of Mechanical Engineers, which represents 98,000 members, called for every operator to ground their helicopters.
Last night, Bristow and CHC Helicopters said they had not ceased operations, based on assurances from Eurocopter and endorsed by the European Aviation Safety Agency and the UK Civil Aviation Authority that the helicopters were still airworthy.