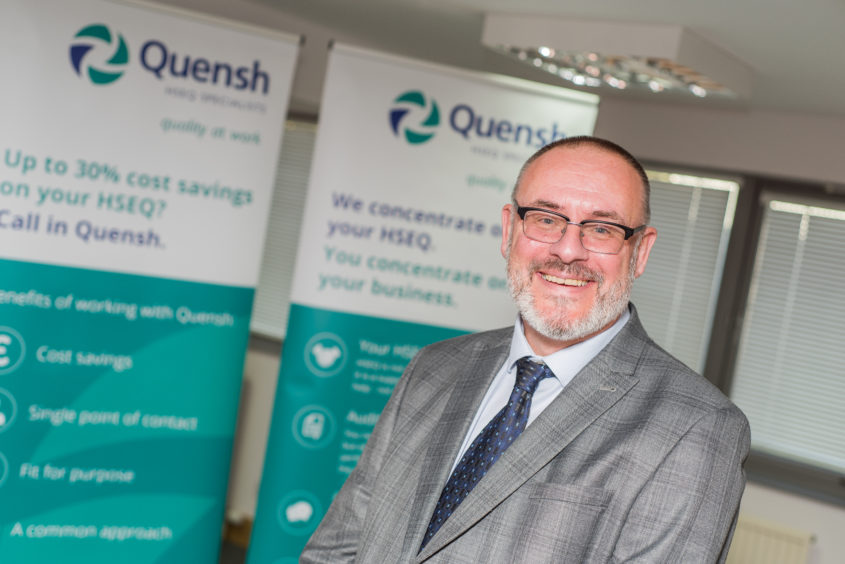 A leading HSEQ based consultancy has announced the creation of a new recruitment division to expand their range of HSEQ services as part of an ambitious growth strategy.
Quensh HSEQ Specialists, which operates from bases in Aberdeen and Perth, Western Australia, has appointed Andy Brodie as its new Head of Resourcing.  Mr Brodie will head up the brand-new recruitment service supporting diversification into new markets and geographies to drive growth.
With more than two decades of international experience in senior management positions within the energy sector operating globally, Mr Brodie's wealth of knowledge includes operations and restructuring, personnel management, team building and client and project development.
Commenting on his new role, Mr Brodie said: "I am delighted to join Quensh at what is an incredibly exciting time for the company in terms of expansion and broadening the range of services it has to offer.
"I will be developing our client base both in Aberdeen and at our offices in Perth, Australia, as well as bringing this new service to existing clients.
"Our research shows the market is starting to expand and companies will be looking to kick start recruitment in 2021.  There is a continued expectation from regularity and industry bodies, particularly given the current climate, to retain access to HSEQ skills and knowledge.  We are here to ensure our clients are aware of legislation changes and are fully supported through all compliance challenges"
The new division will complement Quensh's existing HSEQ portfolio of auditing, training and consultancy services and will cover a wide range of recruitment specialisms tailored to the customers needs.
The expansion comes off the back of a recent move to new facilities in line with Quensh's business development strategies. Quensh moved into larger premises in Ellon last month allowing scalability to grow as the headcount continues on an upward trajectory. This year alone, Quensh has achieved a 50% increase in personnel across its UK and Asia Pacific operations.  This recruitment drive is expected to continue throughout 2021.
Commenting on Quensh's new recruitment division, Managing Director Andy James said: "We are delighted to have Andy on board as we continue to focus on delivering our growth targets in the UK and Australia"
"Andy is highly experienced in business, project and manpower management across multiple industries and sectors and has an extremely successful track record in these disciplines.
"With Andy at the helm of our new division, it will enable us to help companies fill key positions with the most capable and experienced staff."
Quensh offers the market a viable alternative to managing their HSEQ and to date has supported projects and clients in 25 countries across 6 continents.
Recommended for you

Lab services firm Oleochem swoops for north-east rival