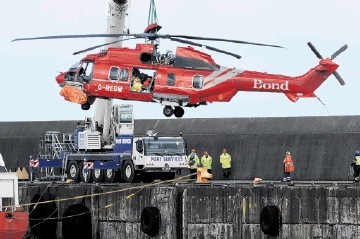 The gear shaft on a Super Puma helicopter which ditched in the North Sea in May cracked just over a year after it was made, according to a report published yesterday.
The latest Air Accidents Investigation Branch (AAIB) bulletin on the controlled ditching of a Bond EC225 aircraft on May 10 revealed the main gear shaft was only built in March last year.
The report added the shaft had only gone through 167 flying hours since it was fitted, but the component should have a life of 20,000 hours and is overhauled after every 2,000 hours.
The AAIB also said yesterday it had combined its investigations into the May 10 ditching and a similar incident which took place last month involving a CHC-operated EC225.
Since the latest ditching on October 22, dozens of Super Pumas have been grounded in the UK. While some have since returned to service, manufacturer Eurocopter has said it will be at least three months before the full fleet is flying again.
Crews on both the Bond helicopter in May and CHC's aircraft in October ditched the aircraft after a warning light indicated a failure of the main gearbox lubrication system.
In both incidents all passengers and crew managed to escape into liferafts before being picked up. The AAIB's latest bulletin on the two ditchings said the cracked gear shaft on the CHC Super Puma was older, having been built in 2008, but had still only done 3,845 flying hours and had been overhauled once.
The report said the gear shaft in both aircraft failed because of "high cycle fatigue cracking", thought to have been caused by the shaft bending as it rotated.
The organisation said its investigation had still not revealed the root cause of the failure of the gear shafts in the two ditchings, adding it was possible the failures occurred for different reasons.
The AAIB said its investigation was expected to continue into next year and that its inquiry would include examining shafts removed from some other EC225 helicopters flying out of Aberdeen.
Aviation writer Jim Ferguson said: "There has got to be serious concern over the apparent lack of detailed information."