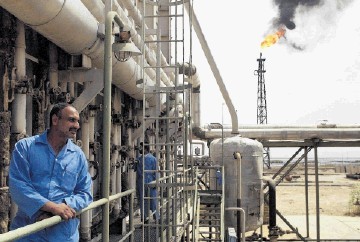 North Sea health and safety experts are working in Iraq to help the country recover from war.
Iraqis determined to start a career in the oil and gas industry will be trained to standards honed in the harsh conditions of the North Sea after the overseas arm of energy skills body Opito signed an agreement in the Middle Eastern state. Although many locals do not have the skills to work in Iraq's oil and gas plants, Opito chief executive David Doig said they were becoming frustrated by the number of workers coming in from elsewhere to run the facilities.
Now, international oil companies (IOCs) working in the country have been told by the Iraqi Government to increase the number of local people working on the sites – and the operators have turned to Opito International for help.
Mr Doig described the organisation's operations in Iraq as "the toughest job we have ever taken on", but added that Iraqis needed the skills to work on oil and gas plants to help bring social stability back to the country. "There is a fair amount of tension among some Iraqis at the moment, particularly in the south, because local people see buses full of people from other countries coming in to work at the plants," Mr Doig said.
"The IOCs are trying to accommodate some of the Iraqi locals, but without the right skills it is very difficult."
Mr Doig, who regularly travels to Iraq, said working in the country could also be challenging for foreign workers.
"When you go anywhere it has to be alongside guys with guns, and you cannot go there without receiving training on how to evade or escape confrontations," he said.
"That tells you how unstable it can still be."
Mr Doig said Iraqis would initially be trained at Opito International's Dubai office, before the Aberdeen-based organisation sets up Opito Iraq in the coming years.
The latest deal Opito International has signed in Iraq is with Shell, and the skills body will support staff training on the oil giant's Majnoon project.
It has also signed a similar agreement with Petronas in Malaysia, and combined, the two contracts will lead to multimillion-pound revenues which Opito will invest back into new educational projects.
Mr Doig said he expected further deals to follow elsewhere.
He said: "Getting the local workforce active is fundamental to achieving social stability, not just in Iraq but around in the world.
"There will be other governments who see the model we are introducing there and will be keen to seek our advice.
"We are now taking a lot of the learning we have built up here in the North Sea and modifying it for other regions."
Recommended for you

Floating forecasts: Key questions on the skills challenge for floating wind