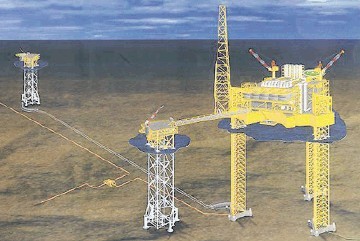 French operator Total said it expected the Health and Safety Executive to approve the restart of the Elgin-Franklin development within days.
The North Sea installation has been shut down for nearly a year following a gas leak, but Total hopes to resume production by the end of next month.
The firm's chief executive, Christophe de Margerie, said yesterday he hoped to receive HSE clearance "in the next few days". Following the incident in March, the leak on Elgin-Franklin was plugged in May after spewing up to 7million cubic feet of gas every day.
Total's production from the platform 150 miles off Aberdeen was 55,000 barrels of oil equivalent per day (boepd) before the shutdown, and the company's senior vice-president for Northern Europe said he hoped to go beyond that in the coming years.
Patrice de Vivies said Total expected output to be 140,000 boepd by 2015 and 150,000 by 2016.
Mr de Vivies said the leak had been caused by corroded pipes on Elgin, adding the corrosion was due to a reaction between the bromide chemical compound used in the fluid to complete the well and the grease in the pipe. The corroded pipe then broke under pressure. Mr de Vivies described it as a "unique" occurrence, but added: "We will be much more conservative in future in the pressures we can meet from the well."
It is estimated the Elgin platform produces 3% of Britain's gas and is one of the deepest and most highly pressurised wells in the world.
Mr de Margerie said previously the leak would cost £186million-£238million in lost production.