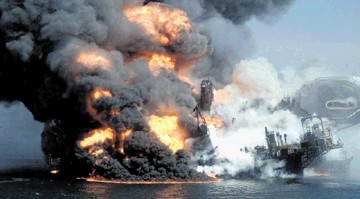 An oil company boss has warned a shortage of experienced staff is jeopardising the North Sea's world-leading safety standards as the sector prepares for its biggest boom for 30 years.
Geoff Holmes said the industry needed seasoned managers who would be able to respond to a disaster on the scale of the Macondo blowout in the Gulf of Mexico or the Piper Alpha tragedy.
The Talisman Sinopec Energy UK chief executive spoke out the day after it was revealed that offshore firms plan to invest £100billion in projects in UK waters – and BP went on trial in the US over the worst offshore oil spill in American history.
Mr Holmes, who was speaking at a business breakfast in Aberdeen organised by industry body Oil and Gas UK, said: "We can't afford to have people who have had a smattering of training and then go and run high-risk operations.
"We need people who have 10, 15, and 20 years' experience, deep and competent, well-trained and know how to deal with a potential Macondo or, God forbid, a Piper Alpha situation."
He said the lack of experience worried him and that his own firm was continuing to look at all possible routes to tackle the recruitment problem.
He said: "It takes a few years before a bright young graduate becomes really valuable to the business.
"There's a challenge when they get to that five-year milestone of experience to keep them and not have their heads turned by the high consultant rates they can get by going to work as a drilling supervisor on a rig."
Chris Elliott, exploration manager at Edinburgh-based Cairn Energy, also highlighted potential gaps in competence.
Mr Elliott said: "I wonder whether we are training graduates in the right way.
"It's obviously important to learn the new technological advances – but are we not forgetting some of the basic things, like being able to look at a bag of ditch cuttings and work out from the mud what's wrong?"
Jake Molloy, regional representative of the RMT union, claimed graduates were being fast-tracked into jobs without the necessary skills.
"Too many companies are rushing for the graduate ticket instead of training up people through different levels in the company," he said.
He added new opportunities in countries such as Brazil were luring "experienced hands" away from the North Sea. Collective agreements on salaries – such as those in the Norwegian North Sea – could help to retain staff, he added. Lib Dem MP for West Aberdeenshire and Kincardine, Sir Robert Smith, said: "Obviously, operators have to make sure their systems are safe, so I would have thought a shortage of skills is more likely to hold back development.
"They should be confident that they have got in place systems and appropriate safety. A shortage of skills could be a barrier to getting on with economic development but shouldn't be a risk to safety."
An explosion on the Deepwater Horizon rig and the blowout of the Macondo well in the Gulf of Mexico in 2010 led to the largest offshore oil spill in US history and left 11 workers dead. The Piper Alpha disaster in 1988 claimed 167 lives after an explosion and series of fires destroyed the Occidental-operated platform in the North Sea.
Recommended for you

Number of UK North Sea hydrocarbon leaks drops by around a quarter