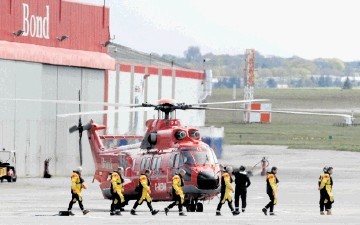 Helicopter operator Bond Aviation said the actions of two of its Aberdeen workers had won it a safety accolade.
Bond said it had received the inaugural Moral Courage Safety Award after maintenance technicians Sean Newlands and John Crowthers decided to delay a North Sea flight. The pair made the decision because of a small change in the helicopter's health and safety usage monitoring system.
Although the aircraft was still fit to fly, the two technicians insisted on taking the helicopter back to the hangar and ultimately replacing a small bearing before returning it to service.
Bond won the award, organised by the US Department of Transportation, in recognition of Mr Newlands and Mr Crowthers' decision to suspend the flight.
Although Super Puma helicopters operated by Bond have been involved in ditchings in the North Sea in recent years, managing director Luke Farajallah said the award was a significant moment for the firm and underlined its commitment to safety.
He added: "We see this as acknowledgment our teams are truly adopting the culture that puts safety before any flight, before any commercial or financial priority, and as evidence we support individuals who come forward with concerns, however small. We are extremely proud and excited to receive this award and it means a great deal to the individuals and indeed to the entire workforce."
Aviation
Recommended for you

Flylogix: BP-backed drone firm lands in administration