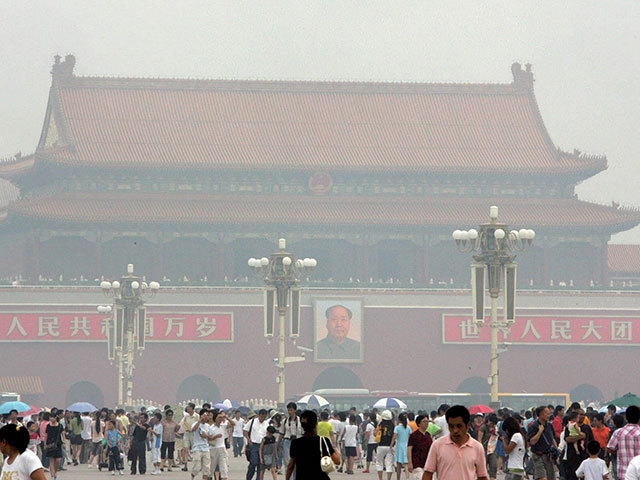 China Petroleum & Chemical Corp.earnings beat analyst estimates as profit from turning crude oil into fuels offset the plunge in energy prices and more than $1 billion in writedowns by Asia's biggest refiner.
Net income last year fell 30 percent to 32.4 billion yuan ($5 billion) from 46.5 billion yuan, according to a statement to the Shanghai stock exchange. That compares with a 29.97 billion yuan mean of 19 analyst estimates compiled by Bloomberg. The company reported impairments of 8.8 billion yuan. Sales dropped 29 percent to 2.02 trillion yuan.
"It's got a defensive downstream business model, so the company actually benefited from the decline of oil prices," Gordon Kwan, head of Asia oil and gas research at Nomura Holdings Inc. in Hong Hong, said by phone. "If you compare earnings with PetroChina and Cnooc, Sinopec has done the best and will remain to be the most defensive oil stock."
While the collapse in prices has hammered producers — the global benchmark Brent dropped to an average of about $54 a barrel last year from $99 the year before — refiners have benefited as cheaper crude boosted profit margins. India's Reliance Industries Ltd.'s earnings surged to the highest in eight years in the quarter ended December as lower feedstock costs supported gasoline and diesel margins.
Operating income from refining at the Beijing-based company, known as Sinopec, rose to 20.96 billion yuan, flipping from a loss of 1.95 billion yuan the previous year. Chemicals gained 19.68 billion yuan from a loss of 2.18 billion yuan. Petroleum exploration and production lost 17.42 billion yuan, from a 47.06 billion yuan gain the year before.
Refining helped cushion Sinopec from the profit tumbles felt by its state-owned rivals, PetroChina Co.and Cnooc Ltd., which both saw net income drop by at least 66 percent. The company slipped 1.5 percent to close at HK$4.72 in Hong Kong before the earnings were released, compared with a 0.1 percent gain in the city's Hang Seng Index.
Sinopec reported in January that oil and gas output fell for the first time in 16 years as a slump in domestic crude production outweighed record volumes of natural gas. The company is reducing costs by closing high-cost oilfields. Sinopec Shengli Oilfield, a production arm, shut down four oilfields for the first time in the unit's 50-year history to cut losses amid the price plunge.
The cuts helped rival Cnooc overtake Sinopec as the country's second-biggest oil and gas producer. Sinopec produced almost 472 million barrels of oil equivalent, down 1.7 percent, while Cnooc pumped roughly 496 million, jumping nearly 15 percent. PetroChina remains the largest at 1.49 million barrels.
China's oil output in 2016 will decline between 3 percent and 5 percent from last year's record 4.3 million barrels a day, according to estimates last month from Nomura Holdings Inc. and Sanford C. Bernstein & Co. That would be the first drop in seven years, and the biggest in records going back to 1990.
Sinopec and its state-owned parent China Petrochemical Corp. faced "unprecedented pressure" on operations from falling oil prices, the company said in November. The company's refining margin may receive a boost this year after China effectively created a price floor saying in January it wouldn't adjust retail fuel prices as long as crude is below $40 a barrel.
Recommended for you

Omicron could cut oil demand almost 3 million bpd in early 2022, says Rystad