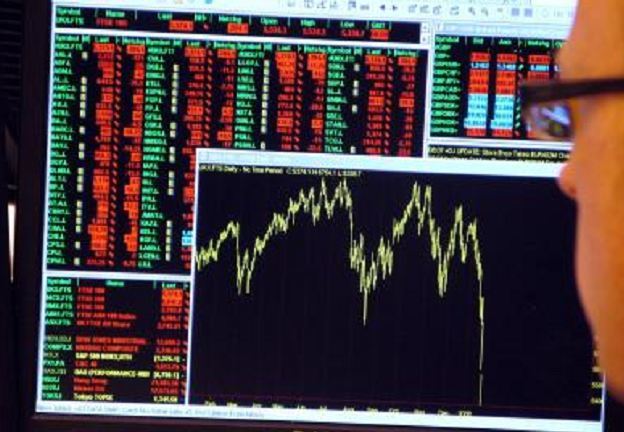 The London market opened broadly flat, as top flight shares struggled to hold on to gains made earlier this week.
The FTSE 100 Index edged lower by 7.3 points to 6258.1, despite buoyant trading from miners and financial stocks.
In Europe, Germany's DAX and the Cac 40 both opened slightly down, with little economic news slated for release today.
Top flight shares in London are currently on course to finish the week around 100 points higher compared to their close last Friday.
Heavyweight miners were strong risers, as prices for copper and iron ore climbed prompting brighter prospects for world trade.
Rio Tinto climbed 30p to 1999p and Fresnillo lifted 14p to 1044p.
Banking stocks recovered their poise after being dragged down on Thursday by news of Spain's Banco Popular's 2.5 billion euro (£1.9 billion) rights issue.
Barclays lifted 1.1p to 185.9p, Royal Bank of Scotland rose 0.3p to 248.9p and HSBC climbed 0.9p to 446.8p.
Oil stocks lost ground as Brent crude fell back from above 50 US dollars a barrel earlier this week, its highest level this year.
Brent crude was down 1% to just over 49 US dollars a barrel, which saw BP ease by 1.4p to 363.1p and Royal Dutch Shell slip by 5p to 1688p.
High street retailer Marks & Spencer was lower for the third day in a row after new boss Steve Rowe warned earlier in the week that profits will take a hit in the short term under a turnaround
plan to slash clothing prices and put more staff in stores.
Mr Rowe, who took on the top job from Marc Bolland in April, said it was his "top priority" to get clothing sales back on track.
He will cut everyday prices for nearly a third – 30% – of its clothing ranges, while reducing promotions and clearance sales.
Shares slipped 1.8p to 388.8p, and have fallen more than 12% since the day prior to his announcement on Wednesday.