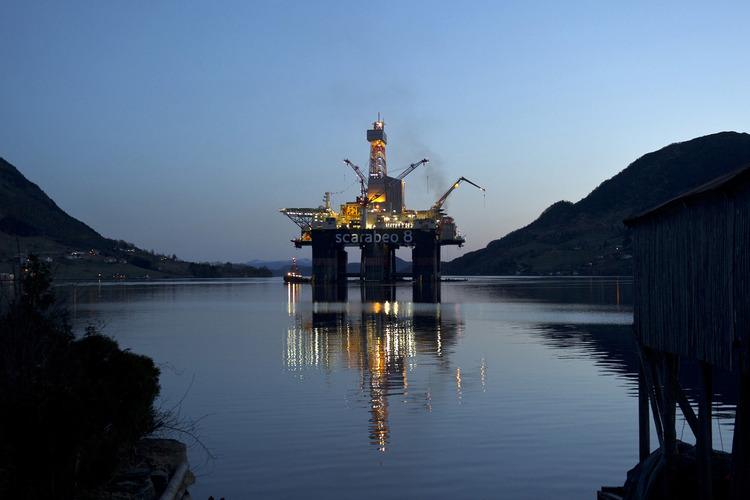 Norway's central bank is predicted to leave its key policy rate unchanged at a record low as the economy of western Europe's biggest oil producer fights off the biggest slump in crude prices in a generation.
The central bank will keep its key policy rate at 0.50 percent at a meeting on Thursday, according to 15 of 22 economist surveyed by Bloomberg. Seven predict a cut to 0.25 percent. The bank will likely keep an easing bias to avoid the krone from strengthening too much, according to DNB ASA and Nordea Bank. The currency has risen 5 percent on trade-weighted basis this year.
"The way the economy looks now, there is no obvious need for a rate cut," said Harald Magnus Andreassen, chief economist at Swedbank in Oslo. The bank will likely lift its rate path "a bit" without excluding the possibility that there could be another rate cut, he said.
Norges Bank Governor Oeystein Olsen looks set to avoid the fate of colleagues from Stockholm to Tokyo, who have been forced to cut rates below zero and unleash asset purchase programs. He's helped, of course, by record government spending from the nation's $890 billion wealth fund.
Here are some of the variables that policy makers will looking at:
Unlike other places, Norway has inflation. Price growth has beaten central bank estimates since the previous monetary report in June and is holding way above the 2.5 percent target. While the bank expects inflation to abate as the effects of a weaker krone filter out, it will likely have to raise its inflation forecast.
Unemployment has been little changed in 2016, holding at an enviable rate of 3.1 percent in August, according to registered figures. But the oil regions have been hit hard and about 40,000 workers have lost their jobs following the sharp downturn in the country's oil sector since 2014.
House prices are rising at a faster pace than forecast by the central bank. In the third quarter, the average national increase was more than 1.5 percentage points above its estimate. Figures for Oslo showed a year-on-year jump of 16.3 percent in August. Those are worrying figures for the central bank, which has an expressed so-called leaning-against-the-wind policy.
And the future is looking brighter. An index used by the central bank to measure the outlook of Norwegian businesses over the next six months rose to a two-year high in August, suggesting there's plenty of confidence about the economy's performance.
But the strengthening krone will likely keep policy makers from becoming too hawkish. Economists at DNB and Nordea say that the central bank will keep an easing bias and signal a probability of a rate cut during first half of 2017.
"By retaining a certain downside risk in the interest rate forecast, the central bank will prevent an excessive appreciation of the krone," said Erik Bruce, chief analyst at Nordea Markets in Oslo.
Recommended for you

Norway's wealth fund cuts big oil holdings in profit taking move