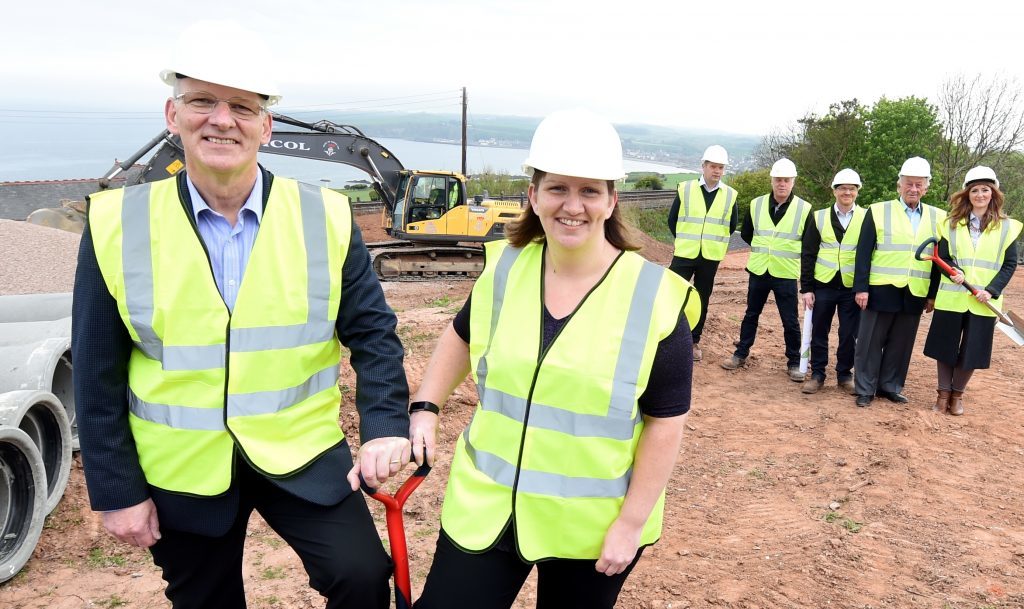 A former oil and gas industry boss and his family are pouring more than £1million into a new tourism business in Stonehaven.
Bob McAlpine, who had spells as group operations director at Balmoral Group and chief operating officer at Hydrasun, is now focused on giving visitors to the north-east somewhere to stay.
A formal ground-breaking ceremony for his new luxury lodge development overlooking Stonehaven Bay took place yesterday.
McAlpine, 61, is not the only family member taking their career in a new direction in a new dawn for the area's economy after the oil slump.
His daughter, Kelly, who also worked for Hydrasun, will be site manager at Dalriada Luxury Lodges.
Alan Buchan Contractors, based at Brathens, near Banchory, aims to have the first phase of an eight-lodge project done by October.
It is carrying out the work using kits supplied by Scotframe Timber Engineering, of Inverurie.
Mr McAlpine said he had spotted a gap at the top end of the local holiday market
He added: "We think there is demand for very high quality, self-catering accommodation in the north-east of Scotland and the family will invest well over £1million to bring this development to life.
"Four full time jobs will be created in our company this year and more will follow next year.
"We will support local suppliers wherever possible, and expect to bring visitors and tourists to the area who may otherwise have gone to alternative regions."
The new two-bedroomed luxury lodges will help wider efforts to diversify the north-east economy he said, adding: "The oil and gas industry has swamped everything for so long."
Mr McAlpine sought advice from tourism industry veteran Stewart Spence, owner of the Marcliffe Hotel in Aberdeen.
Support and encouragement has also come from organisations including VisitScotland and Aberdeenshire Council.
VisitScotland regional director Jo Robinson said: "Delivering a quality experience that meets and exceeds visitor expectations is crucial in making Aberdeenshire a must-visit, must-return destination.
"Tourism is a key factor in ensuring communities thrive across Aberdeen and Aberdeenshire, fuelling job opportunities and business growth."
Mr McAlpine and Aberdeen-based energy service firm Hydrasun parted company around the end of 2015, when the company restructured its management team in response to the oil slump.
He continues to offer advice and expertise to the offshore industry as the owner and managing director of Dalriada Management Services.